YORUBA STAR ACTRESS,IYABO OJO FORM CLOSE TIES WITH ANEKE TWINS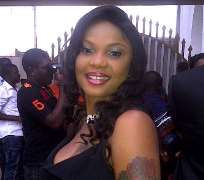 Not everyone is aware that Enugu State based top actresses and producers,Chidinma and Chidebere Aneke Twins are building strong ties in Nollywood.
As you reading this page,the dark skin twins have aside top actress Mercy Johnson Okojie who was said to be their best friend in movie industry,formed another close friendship with top Yoruba actress cum producer,Iyabo Ojo.
They kicked-off this unique relationship by starring light skin Iyabo Ojo in one of their latest movies which was launched at Enugu months back.
Subsequently,all the way from Lagos Ms. Ojo graced the movie launch at Enugu and equally spent several days with the twins,and that was how their close friendship started.
Right now,Iyabo and Aneke Twins are gradually becoming a spectacular item in Nollywood,as they are always found together at events.
In one of the hottest events held in Lagos few weeks back,the twins and Ms. Ojo were so glued to each other that one will wonder if they have turned to triplets.At the point when circumstances did not warrant the three babes sitting together on one table,Iyabo became restless and struggled till the twins joined her on the table.
According to the information,Aneke Twins and Iyabo Ojo have turned to one of the strongest bonds in Nollywood considered unique as they do not speak same language or belong to the same sector in Nollywood.

Enugu celebrity twins Chidinma and Chidiebere Aneke