Mass Marriage, Run By Sharia Police In Kano, Joins 100 Single Brides With New Husbands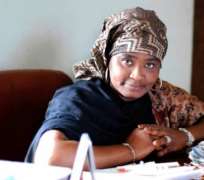 In a spectacular wedding paid for by local religious leaders, 100 single women and divorcees tied the knot with eligible men screened for them by the local Sharia police.

The mass marriage took place at the Palace of the Emir of Kano. The state government was represented by top government officials and Islamic clerics who moderated the occasion. Nine hundred more couples have been designated for the government-endorsed ceremony.

The grooms were decked out in white kaftans. Hundreds of drummers entertained guests outside the mosque premises.

Sheik Isiaka Rabiu of Tijjaniya paid the general dowry of one million naira. The government is responsible for paying their dowries and assistance to launch the marriages. About 15 million naira was given to the Hisbah board as reimbursement for the marriage ceremony.

According to the Hisbah Board, the brides and grooms will be given household items and loans. Committees will be set up to accompany the wives to their husbands' homes in several parts of the state with certificates of marriage as well.

According to local custom, brides usually do not attend the ceremony, but some were there on Tuesday, dressed in veils and wax-cloth dresses.

"I'm very happy today. May God reward all those involved in this project," 40-year-old bride Magajiya Ya'u told a French news agency.

At least one of the grooms was marrying a second wife, as Islamic beliefs allow for up to four
Women who volunteered for the program included those left in difficult circumstances after the death of their husbands or a divorce in a region where arranged marriages are common.

The program was run in conjunction with the Voice of Divorcees and Widows Association of Nigeria (VOWAN), and officials say all women participated on a strictly voluntary basis.

Women and men who qualified were allowed to meet each other at the Hisbah offices and decide on their own who they wished to marry.

"We are grateful to God that we have begun to realize our dream of marrying 1,000 women as part of the government's commitment to mitigate the social malaise we are facing in our society," the head of the Hisbah, Aminu Daurawa, said after the wedding conducted by the city's chief imam.

"We will continue to conduct the weddings in batches and soon we will have the wedding of the second set of 100 women already screened."

Altine Abdullahi was one of those registered to marry. Speaking to a reporter, she explained: "Too many men in Kano treat women like a T-shirt. They wear them and throw them away when they get tired of them."
>

Groom at the mass wedding
Click the link below to go to...
MEMO TO MOVIE PRODUCER DANIEL ADEMINOKAN
Reason: Actress Chika Ike may have abandoned her marriage!
Actress, Anita Joseph; Journalist, Oyetayo Adeshina Robbed At Gunpoint In Lagos