Extortion: Six policemen beat colleague to coma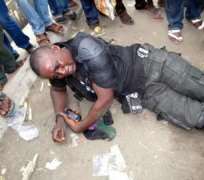 It was like a horror scene in a movie, when six policemen from Elimgbu Divisional Police Headquarters, Port Harcourt, in Obio/Akpor Local Government Area of Rivers State, descended heavily on their colleague, for having the effrontery to challenge them for forcibly extorting money from a commercial bus driver.
The victim, Corporal James Ameh, who is of Police Mobile Force (PMF) 56, based in Ogoni in Rivers State, was beaten to coma, with guns, stones and planks used in hitting his head and body by the six policemen, making him to break his spinal cord.
He became unconscious, thereby falling into a deep drain constructed by Julius Berger Construction Company.
Ameh's well-starched uniform was also torn by his attackers, who almost killed him, for attempting to stop his colleagues from extortion.
The incident occurred around 6 pm on Thursday at the newly-constructed Eleme Junction Intersection/Flyover in Port Harcourt, a multimillion naira project initiated by the administration of Sir Celestine Omehia and recently completed by the Rotimi Amaechi's government.
The intersection/flyover is on the ever-busy Port Harcourt-Aba-Enugu Expressway and not far from the two refineries in Eleme, Port Harcourt and Indorama-Eleme Petrochemicals Company.
It was learnt that Ameh was in a bus coming from his duty post in Ogoni and wore a riot police uniform, while the six policemen, who were on patrol, flagged down the commercial bus, fully-loaded with passengers, with the intention of collecting roja (bribe) from the driver, opposite a 7-Up depot near Eleme Junction.
The victim alighted from the bus and pleaded with his colleagues to allow the driver to go without collecting money from him, considering esprit de corps. This infuriated the six policemen, who decided to beat him up, in spite of his pleas for mercy, making him to end up in the deep drain.
Sensing danger, the six policemen, who came with a patrol vehicle, immediately left the scene to avoid being mobbed by aggrieved passers-by, who later got the patrol vehicle's registration number and reported to the Divisional Police Officer (DPO) of Elimgbu Divisional Police Headquarters.
Sensing that the DPO might not take the matter seriously possibly to protect policemen working with him, the passers-by also reported to the Rivers Police Headquarters, along Moscow Road in Port Harcourt, for the Commissioner of Police, Mr. Mohammed Indabawa, to take urgent action.
Sympathisers later brought out the victim from the drain and laid him by the road side where he was for almost one hour before the Commander of Mopol 56 was contacted and he came to move Ameh to the Police Clinic at the old Government Reservation Area (GRA), Port Harcourt. The bloodied policeman is now in critical condition.
It was learnt that arrangements were being made by police authorities to move Ameh to an undisclosed better-equipped hospital to save his life, considering the serious injuries he sustained.
A source at the Elimgbu Police Station said the six affected policemen were immediately arrested, detained and currently being investigated. If found culpable, the source added that the security personnel might be dismissed and prosecuted to serve as a deterrent to others.
The Rivers Police Public Relations Officer (PPRO), Ben Ugwuegbulam, a Deputy Superintendent of Police (DSP), confirmed the incident, which he said was being investigated.
You may also like
Marriages don't last these days but I still need a man -Shan George
'How I met and fell in love with my wife' - actor Chidi Mokeme
STEPHANIE OKEREKE OPENS UP ON N100M PARIS WEDDING--SAYS I'VE ALWAYS DREAMNT OF A FAIRY TALE WEDDING
THERE WAS THIS STORY THAT RMD AND I WAS SEEN DOING SOMETHING IN A CAR--ACTRESS STELLA DAMASUS