Henry Bonsu – "Too Intellectual"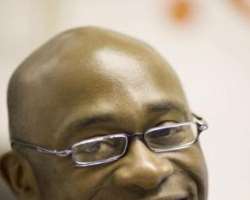 Best known as the man axed by BBC London for being "too intellectual", Oxford graduate Henry has been a journalist since 1990, working as a staff researcher and producer on BBC radio and TV programmes like Today, World at One, Public Eye, and Black Britain. He became a freelance journalist and broadcaster in 1997, anchoring several programmes on BBC London 94.9FM, including Breakfast, Lunchtime, and Drivetime, interviewing leading politicians, businesspeople and a range of London personalities. Henry was also a popular panellist on Channel 5's The Wright Stuff, and has appeared as a news commentator on Radio 5 Live and Sky News for several years.
Not so well known for his print journalism, he has nonetheless has written for the Times, Mail on Sunday, Daily Express, The Voice, New Nation, Pride Magazine, and the London Evening Standard. He is also UK correspondent for Black Entertainment Television, and presents regular discussion programmes on Press TV and Vox Africa.