Bomb Scare At Murtala Muhammed International Airport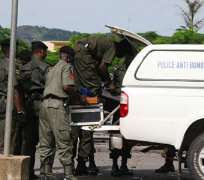 … Bomb Squad Called In Following Suspicious Abandoned Travel Bag
LAGOS, May 08, (THEWILL) – One suspicious abandoned travel bag at the E-Wing arrival Terminal of the Murtala Muhammed International Airport Lagos on Tuesday night caused a stir, after airport security discovered it and called in the bomb disposal unit of the Nigerian Police.
THEWILL gathered that the bag was abandoned by a passenger who had arrived on a flight from London.
Two senior security officials attached to the airport told THEWILL that the bomb disposal unit, on arrival, evacuated the terminal before an attempt was made to secure the bag, and a rehearsed controlled sophisticated explosion executed.
The bang from the technique used, however, cause panic as people ducked for cover.
But it turned out that the travel bag was harmless and only contained personnel effects of a traveller who had obviously forgotten it at the airport.
Also, some reports had erroneously claimed that the roof of the terminal was blown open while cars were seen on fire.