NO CRISIS IN PDP, BUT INDISCIPLINE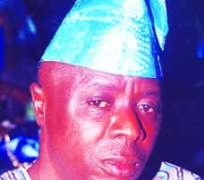 Agboola
Senator Hosea Agboola represents Oyo North on the platform of the Peoples Democratic Party (PDP). He was Commissioner for Local Government and Chieftaincy Affairs in the Otunba Adebayo Alao-Akala gpvernment in Oyo State.
He told Daily Sun recently in Ibadan: 'There is no crisis in the PDP especially in Oyo State. What we lack is discipline.' He spoke more on this and other issues. Excerpts:
Crisis in South West PDP
There is no crisis in PDP especially in Oyo State. What we lack is discipline. If in Ekiti State, all the groups within the party decided to be in the same venue during the congress, and the congress was conducted there. And they agreed with the results. The same thing happened in Osun State. All the groups met in the venue where the national headquarters said they should conduct the congress. Why should it be different in Oyo State? Why should a group decide to abandon the official venue of the congress for another place to conduct a parallel election? That is part of the indiscipline we are talking about in the PDP. I believe, if we educate our people, things will change.
Reconciliation
I support the current efforts in bringing about discipline in the party. Where there is no discipline, we cannot move forward. If the party at the national level gives a directive, it must be followed and obeyed. The new national party executives have started enforcing discipline. In Ekiti State, the party said those who were at the appropriate venue of the congress are the authentic state executives of the party. They said the same thing in Oyo State.
Relationship with Akala and Jumoke Akinjide
Otunba Adebayo Alao-Akala was Oyo State governor and I was Commissioner for Local Government and Chieftaincy Affairs under him. We are still together, we do not have any problem. We are in the same party, and we are working together for the interest of the party. Jumoke Akinjide is a minister representing the state. We too are together since we are in the same party. There is no problem.
The position of Yoruba
I am not satisfied with the position of Yoruba in the current dispensation. If we want to be relevant and in leadership position, we need to seriously talk to ourselves. For instance, the speakership of the House of Representatives was zoned to us in the South West. But when it came to voting, the South West ACN members voted against their own. It was an irony. That is dangerous for the Yoruba. We need a forum of all the Yoruba leaders to educate ourselves. There is need to support ourselves irrespective of the political parties. Support should cut across party lines. Northerners will not go against themselves, no matter the different political parties they belong to. Yoruba should take a good lesson from that.
We have the Southern Senators' Forum of which I am a member. When I meet other senators from the South West, I do discuss with them for a need to have a forum to meet and deliberate on issues concerning the zone. I will discuss with the other senators to have a forum for all National Assembly members from the South West. I will preach that gospel of unity and togetherness.
South-west economic integration
Is it possible to have a common agenda in the South West? Can we speak with one voice? The problem we have in the zone is that we do not believe in one leadership. As it is now, ex-President Olusegun Obasanjo is our leader in the South West. Unfortunately, some people are against him. If we cannot speak with one voice, how do we have that common agenda in the South West? It is impossible.
The Bamanga Tukur leadership
The national chairman of the Peoples Democratic Party (PDP), Alhaji Bamanga Tukur, is a multi-millionaire. That means his conscience cannot be bought under any circumstance. If we actually want to move PDP forward, we need the kind of that person we are having now. He is the best man for that task to be successfully accomplished. Tukur is a man of integrity and honour. He is not known for frivolities, he is a serious-minded politician. He understands the terrain so well and cannot be tossed around. He is competent and contented with what he has. I believe with him and the guide of God there will be positive changes in the PDP at all levels. He is capable of doing that. He is honest. That is the type of party leadership we have in the PDP now.
Tukur is an elderly person, he is a man of wisdom. He is visionary and highly focused. That is the kind of people this country needs. He is full of useful experiences in almost all spheres of life. We should cooperate with him and allow him to move the party forward in the interest of all. He is a round peg in a round hole. He is well equipped to do the job and he is going to do it. It is good to bring discipline to the party. He has the ability and capability to do it.
Senate leadership style
Senate President David Mark has a unique leadership style. He is a true Christian, honest and frank. If anything is not possible, he will tell you. He has an open mind and allows senators to make their contributions without hindrance or consideration of political parties you belong to.
If you have a superior argument even from another party, he will agree with you. He allows levelplaying, he is a detribalised Nigerian. His good leadership qualities are worthy of emulation.
Elected and appointed political office
It is good to be elected than appointed. If you are elected, you cannot be kicked out anytime. You are bold to say whatever you have in mind. If an appointed officer says anything contrary to the person who appoints him, he may be kicked out.
As the only senator from the South West on the platform of PDP, it is an enormous responsibility and I thank God for that. If you are a leader, and you are honest and plain, there will be no problem. As a leader, you should let your followers know where you are and what you are actually doing. I do not have any problem with my constituents. I am always in touch with them and their feelings. I carry along my party and zone in the deliberations in the Senate.
How I became Senate Deputy Chief Whip
There is a clause in the Senate that only a ranking senator can hold leadership position. I am a senator without any legislative background. That is why I settled for Deputy Senate Chief Whip. That was the highest leadership I could hold at that time.
Oil subsidy probe and pension fund scam
What is happening in the House of Representatives on the oil subsidy probe is a stark reality and revelation of what is happening in Nigeria. With this revelation, things will change. It means that Nigerians are watching you. If you are doing anything, make sure it is in line with the Constitution. You can be called upon at anytime to account for your action or inaction. What is happening is a lesson for those coming behind.