Sexy Actress, Collette Orji Buries Dad (pictures)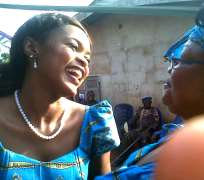 Pretty Nollywood actress, Collette Orji is already back home in Enugu, she bury her late father, Chief Godwin Chikodi Orji on April 20.
Late Godwin Orji was buried in his home town, Ufuma, Orumba North local government area of Anambra State.
The burial rites starts with a Mass at the Orji's residence by 10am. Thereafter, his body leaves Annuciation Hospital mortuary, Enugu to his home town in Anambra.
His body was accompanied by his only daughter, Collette as the tradition demands. He is survived by one wife and six children.
Enjoy some of the photos from the funeral