2015: JONATHAN WARNS POLITICIANS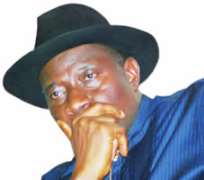 President Goodluck Jonathan is furious about how politicians are going about the 2015 elections and his alleged interest, warning them to stop as it was overheating the polity. He said mischief-makers and opportunists have hijacked the whole thing, adding that it was diversionary and distractive. He added, however, that he was committed to delivering on his transformation agenda.
In a statement by his Special Adviser on Media and Publicity, Dr. Reuben Abati, the President said: 'What began as an irritating distraction some months ago appears to have now assumed a life of its own, dominating political discourse in the country, with all kinds of mischief-makers and opportunists latching on to it to heat up the polity unnecessarily.
'The pointless, diversionary and very distractive hue and cry about the President's alleged ambition to seek a second term in office is becoming increasingly disturbing by the day, with screaming headlines now regular in our newspapers and on the Internet. 'For the avoidance of doubt whatsoever, President Jonathan wishes to reiterate that his primary concern and the focus of all his efforts now, just about a year into the four-year tenure for which he was elected in April 2011, is to deliver on his promise of positive national transformation.
'Nothing could be farther from President Jonathan's mind at this point in time than the 2015 elections. The President has definitely not directed or authorized any individual or group to launch any campaign on his behalf.'
'As he had repeatedly warned on many occasions, including the last national convention of the Peoples Democratic Party, the inordinate ambition of a few self-centered Nigerians and their obsession with the politics of succession in 2015 must not be allowed to distract the nation and its current leadership from the task of dealing with the much more urgent issues of development and safety of Nigerians in all parts of the country.'