SUNNY OKOSUN'S FAMILY BATTLES IVORY MUSIC OVER MULTI NM RECORD ROYALTIES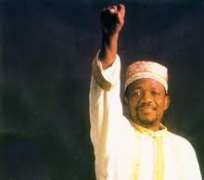 Although the family of late Pan African singer Sunny Okosuns was thrown into jubilation weeks ago following the safe delivery of a baby boy in the USA by one of their daughters Ebony Okosun,the daughter of Stella Monye,we scooped that all is not well with the family.
The source of trouble from what we gathered has to do with nearly N200m accumulated records sales and royalty rights,Ivory Music,the recording company their father worked with almost all his life is alleged to be owning the managers of the estate.
We heard that to recover this accumulated debts,Sunny's younger brother Charles Okosun and Sunny's children have on several occasion written to the Recording company,but according to the story the company replied them that they have no business with them stating that all the albums Sunny Okosuns released on Ivory Music label is their sole property and that the Okosuns or whosoever has no right to the works.
We heard that on getting this letter weeks ago that the family has been running from pillar to post to seek both legal help and otherwise from those believed to be authority in copyright matters.
According to our investigations the fight began sometime late last year when Ivory Music reissued nearly fifteen previously released hit albums of the late Sunny Okosuns on modern music carrier compact Disk(CD) without due recourse to the managers of the late musician's estate.
Sunny Okosun's had before he died in 2008 released more than twenty super hit albums on Ivory Music label