Choose - Happiness, Money, Love, Health or Fame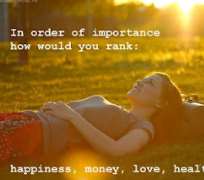 So I saw this picture on Facebook and decided to share here. It asks, how would you rank happiness, money, love, health and fame in your life? Seems pretty simple, right?
I choose health, happiness, love, money, fame. But it wasn't an easy choice, and I'm still not sure I shouldn't re-arrange it. I thought to put love first, but I am a fan happy ever afters, and is that possible without health? And surely that also means happiness must be present to feed the love?

Anyway, the picture got as many different itirations as the number of comments I got on the status update. Most people put fame last, except one friend who put fame before money. Another peace first.

What about you? How do you choose, and do you think something is missing?
Click the link below to go to...
TRAGEDY : REVERED FILMMAKER,HELEN UKPABIO'S 3 BROTHERS ALLEGEDLY MURDERED BY POLICE
Mercy Johnson, Genevieve, Omotola, Others In Hot NMA Fight
'How I met and fell in love with my wife' - actor Chidi Mokeme
CELEBRITY QUOTE: WE ARE YORUBA,YOU ARE NOT EXPECTED TO CALL SOMEBODY WHO IS OLDER THAN YOU BY NAME—TOP ACTRESS IYABO OJO
Eniola Badmus In 'Red-Hot' Romance With Davido?
NOLLYWOOD ACTRESSES AND PASTOR ITUA IGODALO FIGHT DIRTY INSIDE CHURCH