Imoke Promises Labour More Incentives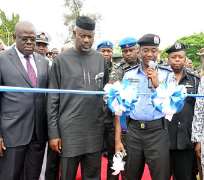 CALABAR, May 01, (THEWILL) - Governor Liyel Imoke of Cross River State has promised civil servants more incentives in order to motivate them to put in their best into the service of the state.
Speaking during the celebration of this year's May Day at the UJ Esuene Stadium in Calabar, Imoke listed the incentives to include downward review of tax regime, which has somewhat dampened the effect of the new minimum wage structure for a certain cadre of the workers.
Others, he said, include the renovation of the state secretariat of the Nigeria Labour Congress (NLC), provision of more buses to industrial unions, inclusion of labour in pilgrimages and elimination of delays in the payment of gratuity.
He stressed that government greatly acknowledges and recognises the need to collaborate and partner labour to resolve certain issues, and create conducive working environment for workers.
The governor noted that the theme for this year's May Day celebration, Right to work, Food and Education: A Panacea to Security, is apt in the face of the nation's security challenges. He said government would do everything possible to redirect the energy of its youths to more productive ventures through its social welfare programmes that are aimed at not only reducing poverty but also empowering people to take active parts the socio-economic growth of the state.
Imoke assured Labour that it would enjoy the unparalleled support and cooperation of government in its effort to qualitatively improve the public sector. "This assurance is predicated on our workforce's renewed effort to curb unpunctuality, absenteeism and truancy, wilful sabotage and abdication of responsibilities."
According to him, these traits, which are commonly associated with the civil service, will no longer be tolerated, as they impede the achievement of a performing and efficient government.
He attributed the achievements recorded by his administration to its cordial relationship with the Labour.
The state NLC Chairman, Comrade Njom Ojong Nyambi, in his welcome address, commended Governor Imoke for demonstrating and maintaining a very cordial labour-government relationship, and for creating the expected level playing grounds for necessary dialogue and negotiations.
Nyambi commended Imoke for aggressive infrastructural development across the state, renovation of health centres and schools, implementation of the new national minimum wage, regular payment of workers' salary, and donation of buses to industrial unions.