Exclusive Interview With Nicola Sackey(Miss Ghana UK 2008)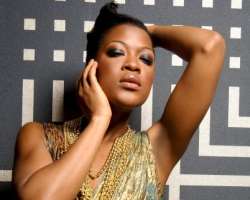 Ghanacelebrities.com caught up with Nicola Sackey (Miss Ghana UK 2008) for an exclusive interview. She had just return from Ghana after weeks of official tour and work on her Foundation called Eagle Sports Foundation. Below is the transcript of the chit-chat interview and you can check out the website for her foundation via www.eaglesfoundation.org
Ghanacelebrities: We want to start off by congratulating you on winning the Miss Ghana UK (2008) title.
Miss Ghana UK 2008: Thank you. Firstly, I'll just like to thank God for giving me the strength and the favor to win Miss Ghana UK. And I pray he continues to give me the Grace to carry this crown.
Ghana celebrities: Please tell us more about your background (education, family, etc).
Miss Ghana UK 2008: I'm 24 years and I've been residing in the UK since the age of 15. I'm the second of 3 children and my family live in Ghana. I graduated from Roehampton University in 2005 with a Sports and Exercise Science degree. I'm currently a personal trainer and a freelance model.
Ghanacelebrities: Do you feel any different after winning the Miss Ghana UK title?
Miss Ghana UK 2008: I wouldn't say I feel different. I'd like to think I'm still down to earth and humble. But it's weird to have people recognize me and still email me 4 months into my reign. I thought the hype would have boiled over and people would have forgotten by now. But they haven't and it's a good feeling.
Ghanacelebrities: What sort of preparations did you undertake to enter the contest?
Miss Ghana UK 2008: We all rehearsed as a group once a week for about 2 to 3 months, that aside, I rehearsed almost everyday after work. I worked out to keep in shape, rehearsed my dance and my speech over and over. We all had to answer the question 'why do you think you should be crowned Miss Ghana UK?' I practiced on my walk the most. A lot of people felt I had an advantage because I am a model. But that was actually the opposite. My walk on the runway is strong and fierce. And I couldn't do that in a beauty pageant. It had to be soft and elegant. So I rehearsed over again to turn that around. It wasn't that easy, but I guess I pulled through.
Ghanacelebrities: Can you name the qualities in you, which you think were important in grabbing the Miss Ghana UK title?
Miss Ghana UK 2008: I'm not sure what the judges marked me on. But on the night I felt confident, composed and elegant. I felt I carried myself well.
Ghanacelebrities: Did your modeling experience contribute to your splendid performance and eventual win?
Miss Ghana UK 2008: I guess having a modeling background helped to some extent, in terms of me being used to walking in front of a large audience. But like I mentioned earlier, I had to switch the way I walk which wasn't as easy. Also when I'm modeling, I barely smile. It adds to my character on the runway. But I had to change that on the night. In fact I had to smile throughout the night. It's not as simple as it looks. But people cheering and screaming helped me sustain it. So I ended up smiling naturally.
Ghanacelebrities: You put off stiff competition to come out the winner, obviously there might have been some form of pressure, how did you maintain your composure throughout the pageant?
Miss Ghana UK 2008: It's funny you should say that because I almost dropped out a week before the night. The pressure to win was way too much. People I didn't even know were expecting me to win because they'd seen me model before. It was good to know I was the favorite to win but the pressure really got to me. I had come so far and I had to go through with it. I wasn't doing it because of personal pleasure or fame. There was a reason I took part in the pageant, and it was to promote my Sports Foundation in Ghana. So I had to put myself together and get on with it. And I'm glad I did.
Ghanacelebrities: Can you tell us your role as Miss Ghana UK (2008)?
Miss Ghana UK 2008: As Miss Ghana UK, I'm an ambassador. For example, I'm suppose to be available when asked, to step into the shoes of the Ghana High Commissioner if for any reason he is not able to attend a function. I'm allowed to use my reign to take on a project of my choice. Generally, I have been a positive role model.
Ghanacelebrities: You set up the Eagle Sports Foundation in Ghana to help discover, nurture and develop young athletes to represent Ghana at world athletic events. Most beauty queen take up issues such as AIDS, Child Welfare, Women Empowerment etc, however, yours is unusual for a beauty queen, why did you decide to take up sports?
Miss Ghana UK 2008: My background and passion is sports. I started running at the age of 8. I'm an all round athlete. I play basketball and any other sports I make my mind up to play. But my main sport is running, sprinting to be precise. Growing up in Ghana, it was impossible to train yet alone make it as an international athlete. There were and still are no structures in place for athletes to go through to become elite athletes. Moving to the UK, and going through the athletics system, I realized Ghana was lacking a serious foundation and structure for athletics. Hence, our poor representation at world events such as the Olympic Games. The vision for the Foundation came to me in the beginning of 2008. I needed a way for people, especially Ghanaians to recognize and support the Foundation. What better way to promote it but by using Miss Ghana UK as a platform.
Ghanacelebrities: What does "success" mean to you?
Miss Ghana UK 2008: Achieving or accomplishing a goal or a mission. It's even more of a success if you jumped hurdles and overcame challenges and obstacles before getting there.
Ghanacelebrities: For girls planning to join beauty pageants, what are the important preparations that they should do in order to excel?
Miss Ghana UK 2008: Firstly, you have to be comfortable in your skin and love who you are. It's amazing how people see you the way you see yourself. It really shows. Be yourself and everything else will fall into place.
Special thanks to Miss Ghana UK (2008) for taking the time out and chatting with us.