THE ACCIDENT THAT NEARLY CLAIMED MY LIFE -WALE THOMPSON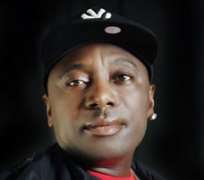 His hit track Lalele Friday could be considered as the Friday night anthem for clubbers, it rocked the music scene in the late 90's and it still gathers momentum each time its played. Wale Thompson started his musical career at the tender age of 14 with his father's band as a guitarist and later form his own band in 1988. He has ever since been a force to reckon with in the juju hi life music circle. He spoke with The Entertainer on his survival from an accident that claimed two of his crews member life and other things. Excerpt
The hibernation
A lot of people have forgotten that God loves me so much that he had spared my life. After Lalele Friday, I released another album entitled, My Logo. Just a week or a month after the release of the album I had an accident that claimed the lives of two members of my band and I was just lucky to be alive. And I have every reason to thank God that I am alive.
After the accident, I traveled to London to treat myself and I am very okay now. When I came back, I released another album, which is popular as well even though it is not as popular as Lalele Friday. Every of my music is popular; the only thing that can make it not popular is if I do not promote it very well. It was the accident that caused the setback for the promotion of my second album, My Logo.
Coming into music
I am very lucky to be the son of a musician. My father is a musician. I grew up in a music family. I started with my father in his band as a guitarist. He actually laid my hands into guitar before he introduced me to one of his guitarist to teach me how to play very well. That was how started.
Forming my own band
I started my own band in 1988. Actually, I was leading a band. I was the bandleader of Uncle GD's Band in 1986. When I left his band, I formed my own band in 1988 and it was commissioned on October 1st, 1989. When I was about to form my band, my father who is a musician had asked 'how are you going to make it in music?' and I replied him that 'God that has been supporting the pioneers would also support me'.  Surely now, my dad is very happy seeing my success. Not only him, everybody that knows about me is also happy for me. I have been consistent ever since I started. I never rushed into things, which is why each time my album is out, people have something to relish. I thank God for the love and trust my fans have for me.
How I get inspiration
Inspiration is all about being talented. When you are talented, things that others work hard to get will be very simple for you and people will marvel at it. It is God's given talent, you don't force it; it comes naturally on its own. As I said earlier that I am very lucky to be the son of a musician definitely music runs in my veins. Apart from that, I believe so much in God because he has been the foundation and the pillar in all my endeavours. Talking about inspiration, He gives me inspiration when I
don't even expect it.
Background
I am Wale Thompson, the son of Mr. and Mrs. David Agbolade Anwo from Ijebu-Igbo, Ogun State. I was born some couple of years ago. I went to St. Luke's Anglican Primary School, Ijebu-Igbo, after which I attended Abe De Marie secondary school, Ijebu-Igbo, Ogun State. I am the first son of the family and I have siblings. I grew up like every other normal child. And being the first son of the family, my father was so fond of me, and everybody in the family loves me so much. While growing up, I had friends that you can hardly differentiate
between the friends and my siblings. The fact that I am the son of a popular musician had really influenced my life. It exposed me to so many things in life that my peers were not exposed to.
Dad's influence
Definitely, there is no way I can dispute the fact that my father being a musician had influenced my mu
sical career. We had rehearsals in the house, performed at shows; I was always listening when they are playing. All these had influenced my choice of career. Although, I prayed over it before taking the decision and God said music is my way.
But if not music, I would have been a lawyer.
No wedding rings but happily married
Of course, I am not wearing a wedding ring but I am happily married with kids. To me, wearing a wedding ring is not the symbol of a good
marriage. Some people flaunt their wedding rings but this does not stop them from being promiscuous. My wife and I are married for almost 22 years now and we are both happy. How I met her? I met her through her friend. Her friend introduced her to me and I spoke to her. She gave me a trial and the trial convinced her. How I proposed to her? I told her the relationship was going to be permanent. I wanted her to be the mother of my kids and I wanted to live the rest of my life with her. She asked me if I was sure of what I was saying and I said 'yes'. Then she told me she would think about it very well before giving me a reply. She thought over it and said 'yes', that was how we finally hooked up.
More than a wife
She is my mother. She is more than a wife to me. We were very young when we met and till tomorrow, she still treats me like a child. She is very understanding and caring. Like I always say, I am a very lucky person. I cope with my fans both male and female very well. I always appreciate them because they love me so much. So, love and appreciation from my female fans does not make them mischievous. As a matter of fact, I don't take advantage of my female fans' love for me.
My children and music
I always encourage my children to face their education. After their education, anyone of them that wants to go into music will have my full support. But for now, I encourage them to concentrate on their education.
Ear for music
My ear for music is different from every other people's ears for music. Whenever I am listening to my music, I look out for my flaws or where any of my band members made a mistake so as to improve on it. When on stage, I do check the audience to see if they are enjoying my performance and also see if they appreciate what I'm doing. I don't allow my fans' accolades to get into my head.
The journey so far
Life is not a bed of roses. I have had my share of hard times and good times just like others. But to be hones, I have every reason to thank God because I started with nothing and He has always been there for me. I also thank my fans for their unflinching support.
From Ibadan to Lagos
I have been in Lagos since 1996. Before that year, I have been shuttling between Lagos and Ibadan but I stayed permanently in Lagos in 1996. I am all over Nigeria. I am not tagged only to Lagos, Ibadan and Ijebu alone. God has made me a household name not only in Nigeria but also in the Diaspora – America, London, Dublin, Germany and other places – I give thanks to God that I am not a stagnant musician.
My unique selling point
I think my personality and the originality of my music speak a lot of who I am. People recognise my usic the moment you play it. My dancing skills, voice, good looks and, most especially, my fashion sense are other factors that distinguish me from others.
No performance enhancer for me
If I started playing music from age of 14 and I am still consistent, people should know that I must have gotten used to what I am doing. To me, music is just natural. I don't need to dope or take any performance enhancer to do what I know how to do best. What enhances my performance is when my fans are enjoying my music. It intoxicates me that I want to do more because when they are happy, I am happy as well. My fans' excitement is the drug that enhances my performance.
On legacy
The legacy I want to leave behind is originality. You cannot be the duplicate of another person and think you can out shine the original person. You can only be effective when you are original. So, that is what I always preach: be the original version of yourself and not the duplicate of others. I thank God for He has really blessed me with talents to be original and creative. The creativity has really helped me. To all younger musicians who see me as their role model, I have always admonished them to be creative in their acts.