Olaniyi Jones, 26 To Face Extradition To The US For $3.2million Payroll Theft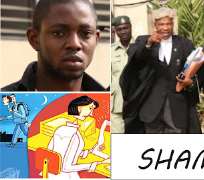 26 year old Olaniyi Jones Makinde is a wanted man in the USA for being part of a 7-man criminal gang that stole $3.2 million from payroll companies and banks between 2009 and 2010, by using fake websites to trick people into giving up their online usernames and passwords. The other six are: Karlis Karklins, Charles Chidi, Waya Nwaki, Osarhieme Obaygbona, Marvin Dion Hill and Alphonsus Osuala
When the activities of his gang was discovered by FBI in 2010, Olaniyi escaped the US and returned to Nigeria. Unfortunately for him, the US police informed the EFCC about his activities in the US and his wanted status there. The EFCC tracked him down in Nigeria and arrested him.
He's been in Ikoyi prisons since January 2012 where he will be until May 30th where a Federal High Court will hear the extradition request filed by the office of the Attorney General of the Federation against him.
According to the FBI report, aside from stealing from companies and banks, Olaniyi also stole from individuals by assuming the false identity of a sexy white chick named Brenda Stuart, and tricking men into sending money and their account details to him.