Amazon's Streak Of Fire Ignites Shares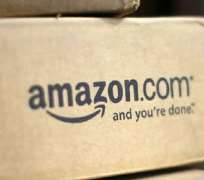 Amazon.com Inc's quarterly results beat Wall Street's most bullish expectations as heavy spending by the world's largest Internet retailer began to pay off through sales of more digital products on its new Kindle Fire tablet.
Amazon shares surged almost 15 percent, increasing the company's market value by more than $10 billion and boosting the stake of Chief Executive Jeff Bezos by almost $2.5 billion.
Analysts cheered first-quarter earnings and revenue which comfortably exceeded their forecasts.
"It's been a couple of years since Amazon beat expectations on both the top and the bottom line," said Colin Sebastian, an analyst at Robert W. Baird & Co. "That's reminiscent of the Amazon from three or four years ago."
Amazon is spending in three main areas: fulfillment centers to support online retail; video content and other media businesses; and infrastructure for its cloud computing service.
Among its latest ventures is the Kindle Fire, the tablet that competes with Apple Inc's iPad, that some analysts say the company is selling at breakeven or a small loss.
The Fire is important because it helps Amazon handle the shift from physical media products, like books, DVDs, video games and CDs, to digital versions of such content.
During the first quarter, nine out of 10 of the top selling products on Amazon.com were digital products, including Kindle e-books, movies, music and apps, the company noted.
Amazon Chief Financial Officer Tom Szkutak told analysts on a conference call that the company was pleased with growth in sales of the digital content that Kindle e-readers and the Fire tablet are designed to accelerate.
"One of the concerns with the shift from physical to digital has been whether Amazon will be able to compete," said Ben Schachter, an analyst at Macquarie. "They've done well in e-books, but now it looks like they're also doing well in other areas like video."
North America Media revenue, which includes books, DVDs and music, came in at $2.2 billion in the first quarter, up 17 percent from a year earlier. During the fourth quarter of 2011, this segment grew 8 percent.
Amazon's Szkutak said higher digital content purchases by Kindle customers helped North America media sales growth re-accelerate in the first quarter.
MARGINS IMPROVE
Amazon's heavy spending has pressured profit margins in recent quarters, hitting the company's shares. But in the first quarter, gross margins rose by about 120 basis points to roughly 24 percent, Macquarie's Schachter estimated.
"The biggest concern has been margins. A lot of investors have been looking for the company to demonstrate that it could get leverage on all of these investments it's been making," said Caris & Co analyst Scott Tilghman.
The situation for Amazon now resembled "what we saw back in the 2004 to 2006 time frame when the company was making a lot of investments and margins got squeezed. Then in the years following, margins expanded and revenue accelerated. It looks like the company is in that position right now."
Shares in the company leapt to $225 in extended trading, further swelling the company's already lofty valuation of more than 70 times earnings.
BY THE NUMBERS
In comparison, the 12-month forward price-earnings ratio for the S&P 500 stands at about 12, while Apple is trading at 13 times forward earnings.
Amazon reported net income fell to $130 million or 28 cents per diluted share in the first quarter, versus $201 million or 44 cents a year ago. But that was far above the average Wall Street forecast for 7 cents a share.
First-quarter revenue of $13.18 billion, up 34 percent from a year earlier, was ahead of Wall Street estimates for $12.9 billion. Operating income was $192 million, compared with $322 million a year earlier.
"This looks like a quarter that has something for everyone, growth and margins to satisfy investors. This was a perfect balance. It looks to me there was a follow-through for the Kindle and Kindle Fire in the re-acceleration of growth in media," said Stifel Nicolaus analyst Jordan Rohan.
"We were expecting 15 cents EPS ... and we were probably the high end of the Street of where the margins were," said Evercore Partners analyst Ken Sena.
"You are starting from a very low point: modest improvement on a percentage basis. It looks pretty good. I think the margins have a long way to go, but I think at least to see them moving in the right direction is an encouraging sign."
REUTERS