Senate Halts Liquidation Of NITEL, MTEL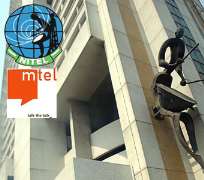 ABUJA, April 24, (THEWILL) - The Senate came down hard on the privatisation process on Tuesday as it ordered the National Council on Privatisation (NCP) and the Bureau for Public Enterprises (BPE) to halt the guided liquidation of the Nigeria Telecommunication (NITEL) and its Mobile Telecommunication (MTEL).
The Senate's position came on the heels of an earlier House of Representatives directive that the BPE and NCP should suspend the planned liquidation of the two companies until investigations into the matter are concluded.
The chairman of Senate Committee on Privatisation, Senator Olugbenga Obadara, who nonetheless blamed the federal government for the unfortunate state of NITEL, called on government agencies indebted to NITEL to pay their debt with immediate effect.
Speaking at an interactive session with Bureau of Public Enterprise and National Council on Privatisation, Obadara said the lawmakers were surprised when it was reported in the newspapers that the NCP has embarked on guarded liquidation of NITEL.
He expressed dissatisfaction with the decision of NCP not to carry the lawmakers along in the guarded liquidation of NITEL, noting that it ought to be working harmoniously with committee. He further said that NCP and BPE were only telling Nigerians the liabilities of NITEL without releasing information on the worth of the government-owned telecommunication companies.
The decision to liquidate the companies was made earlier in March by the NCP, headed by Vice President Namadi Sambo.
However, chairman of the Technical Committee of NCP, Peterside Atedo said the only way that NITEL/MTEL could be attractive is to liquidate them, as they have
been dormant for three years and NITEL's Market shares is almost zero.
Out of the NITEL/MTEL liability, he said equipment were valued at N65,207,865,515: bank claim N81,711,197,330; government agencies N179,901,379,196; and others at N24,387,499,625.