WHY THEY SAY I AM DATING BENUE GOV. GABRIEL SUSWAN—SONGSTRESS,IMELDA J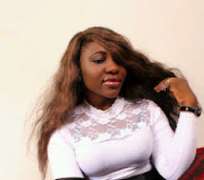 Contrary to an alleged romance between sexy singer, Imelda J and Benue Gov, Suswan,the promising act in a recent interview opened up on the issue.
Nothing of such has ever existed between us.It all boils down to the fact that I am a female.If it were a male,who would have said such?
You see,most times,I ask myself this question that if I get into any office to submit a proposal as an artist and it's approved because God is at work or probably the person in charge turned out to be a good man,why would people have several unpleasant perceptions?
Meanwhile such proposal might have been approved for a male artist before mine.This is a surprise,it is one of the challenges we are facing in the industry as female singers.
The first time I took my proposal to his office,he approved it without knowing who I was or bothering to know me.It was a reasonable cause:he approved it without any form of delay.
Assuming I am a guy I am sure no one would have complained over that
Benue State-born sexy Imelda Ada Okwari a.k.a Imelda J is a fast-rising Hip-Hop singer.This lady is alleged to be in a romance with the Governor of her home state,Benue,Gabriel Suswan.
The allegation was fuelled by the role the Governor allegedly played during the launching of her album in 2009.
The album launch which held at Benue Hotels,Makurdi had the Governor allegedly arriving the venue long before everybody.
Imelda J has however made it known and clear that the Governor only approved of her project which is in good light of promoting showbiz in the state.

Governor Gabriel Suswam