Seal To Storm Ghana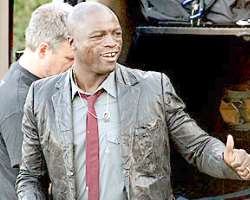 Seal Henry Olusegun EXOPA Modeling Agency is likely to bring one of UK's superstars, Seal Henry Olusegun Kwassi Olumide Adelo Samuel, down to Ghana to perform live in June as part of this year's edition of the "Exopa Fashion Weekend" meant to promote fashion and modeling in Ghana.
CEO of Exopa, Sima Ibrahim told BEATWAVES on Tuesday, "We intend bringing Seal down but I am yet to write to our sister company in Germany to work that out with Seal and his management. I cannot confirm his coming now. But we have plans to bring him down.
If things go well Seal would not be the only superstar to grace our fashion weekend celebration. Boris Kojo, a supermodel who is half Ghanaian would also be part of the event. I am also working to get our footballers in the persons of Michael Essien, Sulley Muntari among others to be part of the ceremony."
Seal is a top Soul singer. He was born to Nigerian parents in London, England.
The rumour that he is half Brazilian, according to wikipedia.org is false. He was adopted because his parents were unable to support him financially.
He was raised in Paddington, a district of the City of Westminster in inner London. He graduated with a degree in architecture, and worked in various jobs in the London area.
The markings on his face are the product of a traditional Yoruba custom performed by the Yoruba people of western Nigeria as a rite of passage to welcome their young men into adulthood. It has been speculated this was an infliction caused by Lupus and this is not so.
After a short time singing in local clubs and bars in the 1980s he joined Push, a British funk band, and toured Japan with them.
In Asia, he joined a blues band in Thailand for a while before separating from the group and journeying throughout India on his own. After his return to England, he met Adamski, a producer who was impressed by him.
He was given the lyrics of the song 'Killer', which was a big hit in 1990. His second album, self-titled Seal, was released in 1994. A success, the album featured the singles "Prayer for the Dying" and "Newborn Friend", later receiving a Grammy nomination for Album of the Year.
"Prayer for the Dying" became a minor pop hit in the US, peaking at 21 on the Billboard charts. A third single, "Kiss from a Rose", performed modestly when released but was later featured in the film Batman Forever.
"Kiss from a Rose" won a Grammy Award for Record of the Year and Song of the Year in 1996, becoming Seal's best performing single on the US market (it topped the Billboard Hot 100 in late August 1995).
Seal's sixth studio album Soul was released on 11 November, 2008 in the United States and 3 November 2008 internationally, and contains eleven soul classics produced by David Foster.
He got married to German supermodel Heidi Klum on 10 May 2005, at a beach in Mexico near Seal's home on Mexico's luxurious Costa Careyes. The couple have two sons - Henry Günther Ademola Dashtu Samuel (12 September, 2005) and Johan Riley Fyodor Taiwo Samuel (22 November, 2006). Seal is also the adoptive father of Heidi's daughter, Helene Leni Klum (4 May, 2004), whom Heidi had with Renault Formula One team director and Italian businessman Flavio Briatore.
By Francis Addo