Pension: Senate Traces Another N26bn To Five Banks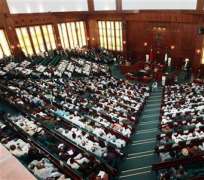 ABUJA, April 16, (THEWILL) - The Senate joint Committee on Establishment, States and Local Government has intensified efforts to unravel the mystery surrounding the mismanagement of pension funds in Nigeria as it again uncovered another N26 billion in five unauthorized commercial bank accounts.
The committee further disclosed that some illegal accounts holding N3 billion of Pension funds were opened at a branch of Guaranty Trust Bank, GTB.
It was revealed that the funds totalling N26 billion lodged in accounts in GTB, First Bank, Fidelity Bank, Ecobank and UBA was part of the N28 billion allegedly recovered by the chairman of Pension Reform Task Team, PRTT, Alhaji Abdulrasheed Maina.
In his submission however, Assistant Chief Accountant in the Police Pension Office, Mr. Toyin Ishola in a detailed explanation of the bank lodgements said Maina never recovered the money.
He alleged the monies had been deposited in accounts, which were ordered frozen by the Minister of Finance, Dr. Ngozi Okonjo-Iweala, in the aftermath of fraud allegations in the police pension.
He said, "First Bank, Maitama has N10 billion, Fidelity Bank N8 billion, UBA has N3 billion, Ecobank has N3 billion and GTB, N3 billion. This money forms part of the N31 billion that the chairman of the task team said he recovered, but they have been there in frozen accounts."
Meanwhile, the committee has summoned two civil servants in the Ministry of Transport, Mr. Ibrahim Abdulkarim and Idu Mathias to appear before it over allegations that N140 million was carted away using their accounts.
Also, appearing before the committee, the Managing Director GT Bank, Mr. Segun Agbaje, admitted to the panel that accounts were opened prior to authorization from Accountant General of the Federation, AGF.
This was subsequent to disclosures by Senator Kabiru Gaya who also asked Mr. Agbaje why one of the account name, Adedokun Oludare Ebenezer who is not a pensioner, was sharing the same account name with former Head of service, Professor Afolabi Ladapo.
Agbaje in his response confirmed to the committee that account name of Adedokun was domiciled in GTB, but refuted claims that two people are operating the account.
Agbaje while responding to questions from Sen. Kabiru Gaya, said it is possible to deposit fund on placement in the name of a person without opening an account.
He was then asked if the committee should take his response to mean that Afolabi does not have an account with the bank, but he insisted that he still needed to check the bank record so as to provide an accurate answer to the question.
Sen. Gaya further queried why series of lodgements were made into accounts of civil servants.
"These are civil servants who are in charge of pension, on daily basis, we have transfer of N11.6 million, N86 million and N10.5 million. I am not comfortable where account opened by a civil servant would be having over N8 million everyday for over eight days. Is it salary? he queried.