EXCLUSIVE: Crack between Ini Edo, Emem Isong Over Movie Credit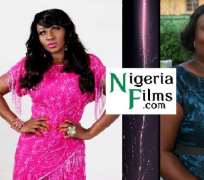 Before now, there have been reports of an imminent break up in Nollywood clique of Royal Arts Academy, which has Ini Edo, Emem Isong, Uche Jombo, Desmond Elliot, Monalisa Chinda and others.
Most of the time such rumbles have been reported, the parties involved have always denied such.
Nollywoodgists.com can authoritatively report that all is not well between Ini Edo and Emem Isong, who are both strong forces in RAA apart from Uche Jombo.
The reason for the strain in their relationship is not far-fetched.
From a good authority, we learnt tjat Emem Isong is not happy with the way most people credit the movie, I Will Take My Chances' to Ini Edo.
According to a source, Emem Isong gets annoyed most time enquiries are made about the movie through her and Ini Edo is addressed as the movie producer.
Emem and Ini produced the film but Ini takes the shine off her being a popular name and face of the movie.
Members of the press are also not spared of this error, which Emem doesn't take lightly.
We confirmed that a journalist requested to get the synopsis of the movie from Emem but mistakely referred Ini as the producer. This we learnt got Emem angry.
Her respnse to the journalist, as we gathered was that, "go and meet Ini to give you the synopsis since she is the producer"
We confirmed that even after apologising for the error by the journalist, Emem has refused to grant the request.
We confirmed that she has done this to so many people.
Another source told Nollywoodgists.com that Emem plays 'all is good' attitude to Ini Edo when they see while the reverse is the case.