NIGERIA GOING REGIONAL-MAMORA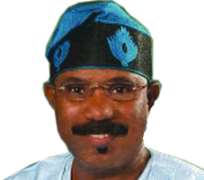 What are your views on the donation by the governor of Central Bank of Nigeria (CBN), Lamido Sanusi?
Well, simply put, it is a good gesture done in a wrong way. You do not go outside of your mandate in whatever you do. And of course, quite expectedly, the issue has been taken up by the House of Representatives.
The question is: Is such gesture within the ambit of the mandate of the Central Bank of Nigeria, (CBN)? You see, it would have been different if the donation was made in his personal capacity as the CBN Governor. But it was not that way. It was done in the name of CBN. So, naturally, the question now, and that's the question that is being asked by the House of Representatives, is it within the ambit of its mandate or is the CBN constituting itself into another government in the land? So, to that extent, I think it was not appropriate.
What is your reaction to the present Nigeria-South Africa face-off over the Yellow card issue which has led to counter deportation between the two countries?
It is a pity because South Africa and Nigeria are two frontline states in Africa. And they are committed to the emancipation of the whole continent. The two countries have done well, and it is a pity that they have gone this far in what, ordinarily, would have been resolved amicably. But let the truth be told, I think we had some degree of excesses from the South African authorities.
So, if Nigeria is reacting the way she is reacting at this point in time, it is not un expected because, like someone did say, 'if slapping you on one cheek, you continue to turn the other cheek to the extent that you are now suffering from broken jaw, then it would be a situation where you would have been pushed to the wall, and you have no choice than to react.' So, as far as I'm concerned, the reaction of the federal government in this circumstance is appropriate. But notwithstanding, we should still leave room for amicable resolution. And I do hope that that would be done in due cause.
The presidency recently warned the Action Congress of Nigeria (ACN) against making unguarded utterances against the person of President Goodluck Jonathan. How do you react to that?
Well, I am not aware that the ACN, as a party has at any point in time, criticized the person of Mr President, but, rather, it is certain policies of government that appear inimical to the health of Nigeria as a country. I'm aware he has been criticized at one point or the other. But, I think that is in order, if it is a criticism of policy and not the criticism of the person, because we must at all times respect the person and even the office of Mr President.
So, to the best of my knowledge, I think the ACN has been doing that. But in terms of policy, yes, we must be free to criticize policies and it is not a question of criticizing just for the purpose of criticism but, rather such that is constructive and progressive.
That is where you also offer alternatives. So, it is not just criticize but you must offer an alternative that is progressive. And I think that is what has been done largely by my party, the ACN, not criticism of the person of the president. I can assure you that our party has the greatest respect for Mr President and his office.
Does it seem to you that insecurity is on the increase in Nigeria, considering the alleged killing of two foreign nationals by suspected members of the Boko Haram sect, in Kano, the renewed operation of MEND and all that?
It is really a pity that we have that. It is an unfortunate thing because loss of lives is painful. It does not matter what that life signifies or symbolizes - whether a citizen or a non-citizen- it sends wrong signals to the local and international community as to the security status of the country. And that is why we need to deal with this issue as fast as possible because it will just put us in very bad light.
We always say that you cannot expect investment to get better in an environment of insecurity. So, it is important that we get round the problem.
It appears that Nigeria is gradually drifting back to regionalism considering the agitation for a confab in some quarters, as well as calls for increased revenue allocation in other quarters. What is your take on that?
Yes, your observation might be right. But again, you need to appreciate that it was under the regional government that we had the closest to federalism in this country. And we seem to be drifting towards that this time around. From my understanding, it has to do with the concept of regional integration whereby, you now try to pull resources together and take advantage of economy of scale to get the best for the region irrespective of what that region is. And fortunately, we have the geopolitical zones now - the South- West, North-East, North-West, North-Central, South-South, and South-East. So, I think it is more of an attempt to consolidate the gains of the various regions and maximize opportunities in the system.
Are you okay with the pace of the present administration in tackling the enormous economic, infrastructural and security challenges in the country?
You see, truth is that the economy is still in very bad shape. There is no doubt about that. The economy, presently, is not what it ought to be. And I do know the Federal Government is making efforts but the question is: Are these efforts far reaching enough? Then I would say no because for too long, we have been talking about the need to diversify the economy and move from the mono-product economy to multi-product economy. But we have not been able to really achieve that.
I am not saying that it should be achieved by flight, but then, it must be seen that conscious efforts, progressively are being made in that direction.
That is on one hand. The other thing to look at is the issue of infrastructures which are critical to development. They include power infrastructure, road infrastructure, health care delivery, just name it. All these infrastructures we need to really develop, especially power. Power is the most critical, but we seem to have been long in words and short in action, in these critical areas.
And also, of course, there is also the need to downsize government operators and reduce the cost of running government. But of late, we unfortunately, seem to see a kind of multiplication of government agencies within, you know, governance by committees and all that. We already have the ministries, we have departments and agencies. And if we are looking at reducing the cost of running government, then, in fact, we should be working towards shrinking this bureaucracy.
But, rather, it would appear that bureaucracy is getting enlarged as a result of these various committees that are virtually competing with the existing Ministries, departments and agencies (MDAs) or doing functions that are similar. And monies are spent in running these committees that are being set up in various degrees and on various issues. You cannot reduce governance into ad-hockism. These committees are ad-hock and we need to be very careful in all these. So, we really need to look at all these so that we can move the country forward.