Nollywood And Its Economic Impact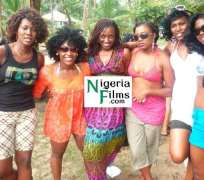 In this piece, Patience Ivie Obhafuoso analyses the economic impact of Nollywood in Nigeria, being the second-largest film industry in the world.
Nollywwod, Nigeria's thriving movie industry, has taken a giant stride to become an industry to reckon with in and outside the country.
In just few years, Nollywood has grown to become the second largest film industry in the world, generating $286 million dollar per year for the Nigerian economy.
Between the late 1980's and early 1990's, Lagos was confronted with outbreak of crime and insecurity, resulting to poor patronage in movie theaters as people became reluctant to be out on the streets.
The crime situation paved way for home videos and many entrepreneurial minded Nigerians saw it as an opportunity to make remarkable difference.
However, experts credit the birth of Nollywood to the 1992 video release of Living in Bondage, a movie with a tale of the occult that was an instant and huge-selling success.
It wasn't long before other producers discovered the hidden treasure. Today, there are over 300 movie producers in Nigeria and thanks to new technologies; bulky videotape cameras gave way to their digital descendents, which are now being replaced by HD cameras. Editing, music, and other post-production work are now done with common computer-based systems.
Amidst criticism, Nollywood movie is a staple in almost every Nigerian home. The appeal has even stretched far beyond Nigeria as the last few years have seen the growing popularity of Nollywood films among Africans in Diaspora.
Today in Nigeria, Nollywood is considered the second largest employer of labour, with an average movie employing a minimum of 130 people.
Paul Obazele revealed to LEADERSHIP that Nollywood is today a voice, a name and has a face and the government has come to respect its potency.
He said, "Government has come to understand the impact of Nollywood. It has come to understand that the only way for Nigeria to survive as it is today is to venture into entertainment because aside government, both federal and state, Nollywood is the second largest employer of labour.
"Averagely, if we are rated the second largest film maker in the world with an average movie employing a minimum of a hundred and thirty persons with the least paid person going home with 5 to 10 thousand naira per film. In some cases, a person can do about four films within a minimum of 48 hours, therefore, if people are talking of a minimum wage of 18, 000, we are giving out a minimum of between 25,000 and 30,000 to the least actors that are directly employed.
"We also have allied people who work with us, for example, we are looking at people who print for us, drivers and food vendors around the communities where we go to work and all others, by the time you compute this together, we are looking at an average pulling in of about 180/190 people per team and if you look at the indices, we have a minimum of 15 films a week."
However, piracy has continued to pose a threat on the future of Nollywood. A recent estimation showed that 50 per cent of Nollywood's profit is lost to Nigeria's endemic piracy and corruption problems.
Nigeria's independent producers self-fund hundreds of movies each year with an average budget of about N3.5 million and in most cases; they are not able to recoup half of the fund due to piracy.
Obazele argued that the issue of, " piracy is a very ugly situation, especially in Nigeria where we have great laws but their implementation becomes dormant, I describe the film industry as a woman raped by hoodlums repeatedly without a condom and at the end of it, they spit on her.
It is barbaric, it is annoying, it is painful, a situation where a group of people who were not giving money to write the story of Nigeria took it upon themselves and collected their fathers' and their mothers' landed properties to shoot the films they shot and brought us into limelight, and they are treated with ignominy and disdain.
A situation where you have an average film maker today going back to his village with load in a paper bag because he has lost everything to pirates."
" The people who are leading us today, from the House of Assembly to the Senate and all of them, if they are not directly or indirectly involved in piracy, to a logical conclusion, why have they not learned a voice or hand to the fight against piracy?
Because what will see, you will see a group of people who want to travel out of the country, they carry our products, they go London, they go Caribbean, they go to all parts of the world to sell it, and they claim ownership of it and give you another work.
I have right as a citizen of this country to be protected, treated with respect. I fly the green white green without fear or favour, in defense of my father land and I bless the nation every day and yet a group of people who don't have regards for human have messed up what we have created.
Before they said rebrand Nigeria, we have rebranded Nigeria at no cost but at the cost of the wellbeing of our families and yet our wives and children, they took it but amazingly, they gave joy to smiles on the faces of Nigerians.''