Gas Eruption: Rivers Communities Appeal to FG, TOTAL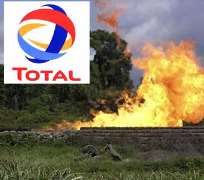 SAN FRANCISCO, April 12, (THEWILL) - Four communities in the oil-rich state of Rivers have cried for help following an environment-debilitating gas eruption that occurred more than a week ago courtesy of the drilling operations of Total Exploration and Production Nigeria Limited (TEPNL).
The affected four communities — Ogbogu, Egita, Obiyebe and Obite communities of Ogba/Egbema/Ndoni Local Government Area of the state — say their farmlands, forests, wetlands and other environmental resources have been devastated by the eruption.
"The entire people of Egiland in Ogba/Egbema/Ndoni Local Government Area in Rivers State express deep shock at the gas eruption in the forests of Ogbogu, Egita, Obiyebe and Obite communities of Egi on 4th April 2012, resulting from the drilling operations of Total E & P Nigeria Limited (TEPNG)," complained a Thursday statement by Chief Oris Onyiri, the president-general of Egi People's Assembly.
"The gas eruption has devastated farmlands, forests, wetlands and other vital economic and environmental resources of the communities in the area. There is palpable fear of contamination of the air and underground water in the affected area."
He added that the situation "has thrown the communities in Egi into trauma, fear and anxiety. There is also a threat to the biodiversity of the area on which the livelihood of the communities depends."
Indigenes of the communities appealed to the management of TEPNG to expedite action on containment and mitigation actions in the crisis areas. They also urged the state government, the Department of Petroleum Resources (DPR) and the Federal Ministry of Environment to respond quickly to the environmental hazards they have since been subjected to.
Speaking to THEWILL, Benard Jokel, the leader of Egita community youths, complained that the communities had been neglected, lamenting the absence of basic amenities.
External Communications Manager of the oil company, Charles Ebereonwu, who was contacted for comments, declined to talk, only saying that the company's official statement had been published on its website. When But THEWILL visited said website, the said statement was unavailable.
Since the eruption, hordes of indigenes of the area, especially those close to the site, have fled their homes to seek refuge in safer places.