Gholdengirl Secretly Marries Rich Indian Expatriate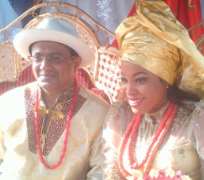 Beautiful TwinsTracy and Treasure Daniels were both failed actresses who meandered from movies to music and became known as the gholdengirlz.
One of the twins secretly married a rich indian expatriate on saturday april 7,2012 in far away ohaukwu in Ebonyi state in a very quiet traditional wedding ceremony.
whispers indicate she snatched this man but i dont know whether it was boyfriend snatching or husband snatching but the church wedding is being planned for july and its hush hush..invited guests will recieve a code to their phones after they get their invites and it is the code they will use to access the venue but alas anything else yet because of the security surrounding the details.
I dont know about you but the way the info is being jealously guarded its obvious the lovebirds are scared of something!
Note...the man is loaded cashwise!
I suggest tracy contacts Actress Mercy Johnson for some tips on what to do oh....just saying!
Here are pictures smuggled out of the wedding venue..lol
Click the link below to go to...
THE REAL REASON ACTRESSES TREASURE AND TRACY DANIELS RAN OUT OF NOLLYWOOD
WHY MORE CELEBRITY LADIES NOW MARRY SECRETLY