Should parents lose custody of their obese children?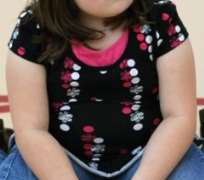 Two Harvard researchers provocatively suggest that kids might slim down if they were temporarily taken away from "inadequate" moms and dad
Obesity is a major problem in the U.S., especially for America's 2 million extremely obese children. Some of those kids will develop diabetes and other obesity-related problems that will kill them by age 30, say Harvard researchers Dr. David Ludwig and Lindsey Murtagh in an opinion article in the Journal of the American Medical Association. The epidemic is caused, in part, by "inadequate or unskilled parental supervision," the Harvard team says, and the answer might be placing more extremely obese children in foster care, at least temporarily.
Is that really in kids' best interest?
Should parents lose the right to raise their obese kids?

No. The obesity police have gone too far with this ridiculous suggestion.
Yes. Allowing kids to become grossly obese is a form of child abuse.
The state should step in only in the worse cases, after everything else has failed.
Best Opinion: MSNBC, Patch, Houston Chronicle