Ensure regular body exercise—Medical officer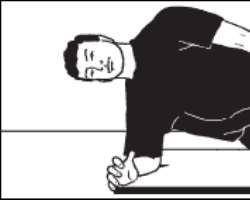 Dr. Sekyi Appiah, Agona West Municipal Director of Health Services has expressed concern about the failure on the part of most Ghanaians to undertake regularly body exercise to prolong life.
He said the pre-mature death of most Ghanaians could be attributed to non regularly exercise of their bodies to take away complicated health related issues which affected the body.
Dr Sekyi Appiah said these when he addressed the last meeting of the heads of department of the Agona West Municipal Assembly at Agona Swedru.
He noted that only few government workers undertook body exercise or went on leave to ease some of the stress and other health related issues that were detrimental to human health.
He therefore suggested to the management of the Agona West Municipal Assembly to organize monthly –health walk for government workers and non workers in the area to prevent diseases, adding that, "It was good to wake up and take a walk for 30 minutes to warm up the body.
Mr Ben Mensah, out-going Agona West Municipal Chief Executive, praised the heads of department for their support and encouragement during his tenure of office.
He urged them to remain as a team to assist the development of Agona West Municipality, adding that, the MCE alone could not improve the living standards of the people without their involvement.
He announced that the assembly has started constructing a bungalow for the circuit court judge, quarters for Assembly staffs and offices for the Agona West Municipal.
The MCE said the construction work at the Swedru Mandela Market was progressing steadily, adding that, land also also been acquired for the establishment of an industrial village under the urban poverty reduction project.
Mr Eric Oppong Bediako, Agona West Municipal Coordinating Direction urged the heads of department to submit their monthly reports to the assembly earlier to enable the assembly forward them to Regional Coordinating Council for action.
He said the assembly would soon repair the broken down revenue mobilization van as part of efforts to improve revenue generation.