Zimbabwe's Mugabe 'Well, On Holiday': Officials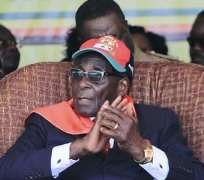 Zimbabwean officials on Tuesday dismissed reports that President Robert Mugabe was seriously ill in Singapore, saying he was well and on holiday there with his family, and was expected to return home this week.
Mugabe is one of Africa's longest serving leaders and has ruled the former British colony in southern Africa since 1980. He is sharing power with political rival Prime Minister Morgan Tsvangirai in a fragile coalition formed three years ago.
The 88-year-old president has been the subject of several health scares in recent years, with some reports saying he has prostate cancer, but in February interviews with state media he laughed off suggestions that he was seriously ill.
Two senior officials from Mugabe's ZANU-PF party on Tuesday angrily denied reports by some international media that he was undergoing intensive treatment in a Singapore hospital and was fighting for his life.
The officials said he was on a private holiday to Singapore.
"The president is well and away on a private holiday to help his daughter prepare for post-graduate studies, but we are expecting him home this week," said one of the two officials, who declined to be named.
"But some sick and malicious people are spreading false stories about him being seriously ill while others are saying he is dead or dying out there," he added.
Asked whether the president had also used his 10-day visit to Singapore for a medical check-up, one of the officials said: "We are not going to be engaged over rumours, speculation and wishful thinking."
Mugabe has made frequent visits to Singapore, Malaysia and Hong Kong.
A terse Zimbabwean government statement saying a weekly cabinet meeting set for Tuesday had been postponed to Thursday had fed the rash of media speculation about the president's health. Mugabe usually chairs cabinet meetings.
The officials declined to give details about the exact timing of Mugabe's return, citing security reasons, but one said the president was expected to chair the rescheduled cabinet session on Thursday.
Zimbabwe's capital Harare was quiet, with government offices and businesses re-opening after the Easter Holiday.
Mugabe, who celebrated his 88th birthday on February 21, was endorsed by his party as its presidential candidate for a general election he wants to be held before the end of this year despite opposition from his major political rivals.
Analysts say Mugabe will face a tough challenge convincing voters to extend his 32-year rule after a devastating economic crisis many blame on ZANU-PF.
SUCCESSION BATTLE
There are fears that if Mugabe dies in office without settling a bitter succession battle in his ZANU-PF, the party could erupt in internal conflict and destabilise the country.
Most of Zimbabwe's newspapers on Tuesday carried no reports of Mugabe's purported illness. But one caried a story on the succession battle in the veteran leader's ZANU-PF party.
Although ZANU-PF officials rally behind Mugabe in public, in private many want him to retire and pass the baton to a younger heir due to fears his advanced age may cost the party victory in the upcoming election.
This sentiment within ZANU-PF has intensified since reports, based on a June 2008 U.S. diplomatic cable released by WikiLeaks, that Mugabe is suffering from prostate cancer.
ZANU-PF still controls most of Zimbabwe's security apparatus, and its opponents say the party is likely to use violence and intimidation against voters ahead of any election.
While some ZANU-PF members now see Mugabe as a political liability, many also still recognise him as the only one able to control a highly partisan Zimbabwean army led by veterans of the 1970s independence war.
Many are also unsure whether his potential successors in the party can defeat Tsvangirai in a free election.
REUTERS