9 YEARS AFTER WEDLOCK,GANI ADAMS,WIFE WELCOME FIRST BABY.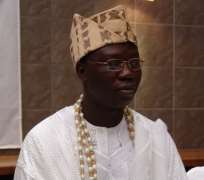 Oodua People's Congress (OPC) national coordinator,Otunba Gani Adams and wife,Erelu Mojisola are at the moment in a joyous mood-and the reason is obvious. God has finally answered the couple's prayer by blessing them with a baby boy, nine years after tying the nuptial knot.
The baby, according to an inside source, was delivered around 3am on Sunday, April 8,2012, at Bethel Hospital,Agboju,Amuwo Odofin area,Lagos.
Mother and child, we were told, are in good condition.
Congrats !
click the link below to go to...
EIGHT YEARS AFTER MARRIAGE-GANI ADAM'S WIFE,MOJISOLA EXPECTS FIRST BABY.