Security Build-Up As President Jonathan Visits Sokoto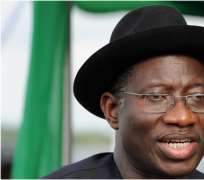 The tensed security situation in parts of Northern Nigeria allegedly caused the Boko Haram terrorist sect has resulted in an extensive security plan to guarantee President Goodluck Jonathan's safety during his official visit to Sokoto state on Tuesday.
Huhuonline.com findings prove that Sokoto state commissioner of police, Aliyu Musa, has deployed over 5,000 police personnel in the state to ensure effective security during the president and his entourage's stay.
Another security source has disclosed that a Brigade of Guards, operatives of the State Security Service (SSS), the National Security and Civil Defence Corps (NSCDC) as well as the Army have been fully deployed to man flashpoint areas in the state.
Police Commissioner Musa has also directed all assistant commissioners of police in the state to man all the undisclosed routes that Mr President would use in the city of the Caliphate.
He therefore enjoined all residents in Sokoto state to cooperate with the security agencies throughout the period of the Presidential visit.
"All we expect from members of the public is intelligence reports that will help us strategize on our modus operandi and in the uphill duty of ensuring a safe society."