CONTESTANTS FORM SIX BANDS ON STAR QUEST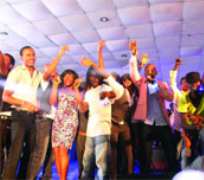 The six bands that will compete in this year's edition of Star Quest have emerged. The bands are: Golden Clef, Quantum Vibes, Da Blingz, D'Rayz, Crystals and Soul Rhythm. Each of the bands is made up of six members who are vocalists and instrumentalists. It will be recalled that 36 young people were selected after a rigorous auditions process, held in different parts of the country.
The members of the public will however get a rare opportunity to witness the bands perform for the first time. Tagged 'Star Quest 2012 first Grand Performance', the event will take place at the MUSON centre today.
Obabiyi Fagade, Brand Manager - Star, Nigerian Breweries Plc said: 'Since Star Quest started airing on TV, Nigerians have seen the budding talents perform as individuals. However, they will get a rare chance to watch them perform as bands at the first Grand Performance. These individuals are on Star Quest today because they dared themselves on stage.'
He added: 'Star Quest was initiated by Star lager beer, Nigeria's favourite beer, to revive the band culture in Nigeria and provide a platform for budding talents to rise to stardom, among other purposes. Entry is free, while maximum security is guaranteed.'
Aside watching the bands' performances, the viewers will have the opportunity of voting for their favourite bands.
After preliminary eliminations, the winning band will emerge on Saturday, April 21 at the Star Quest 2012 Grand Finale. The winning band will cart away N3.6 million cash prize as well as a brand new SUV. They will also get a N7.5 million recording contract, a year's accommodation and opportunities to perform at Star sponsored activations.
Star Quest is Nigeria's only band-based music reality TV competition. Past winning bands include: KC Presh, D' Accord, D'Jewels, Diamondz, JukeBox and The B.E.A.T.