PASTOR CAUGHT WITH MARRIED WOMAN IN BUNDU WATERSIDE.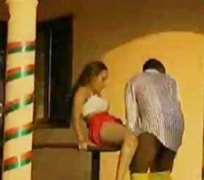 Monday 26th March, 2012 will not be forgotten in a hurry by residents of Bundu Ama Waterside in Port Harcourt as a popular pastor of one of the new generation churches was caught making love to a married female member in the neighborhood.
In fact, it was uncovered by a female friend of the married woman who quickly alerted her husband taking him to the lovers' nest where they were neck deep in love making.
When the husband of the married woman got to the scene, he could not hold his anger as people around assisted him in forcing the door open.
Lo and behold his wife of so many years was found naked in the arms of the pastor of the Church where she worships.
Some people quickly called the Police to rescue the situation but residents scared the Policemen away and got the Pastor thoroughly beaten up before he was taken away by police men.