ACTOR JIM IYKE DENIES BEING BEATEN TO A PULP: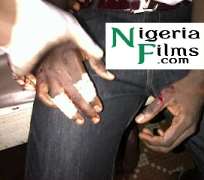 +why he's been quiet.
+ Speaks on other controversies.
+Exclusive pics of Jim's injured fingers.
on monday march 19,2012.

....Controversy and Jim iyke can be best compared to siamese twins.
First it was whispered that the actor was driving around in borrowed cars,the talks got hot but jim kept mum.
The question mark on that accusation was yet to cool off when jim was again accused of swindling N15M off a lady.
Even at the height of tongues wagging,the actor offered no explanations or press release.
Now a new whispering has hit town that tongues cannot stop wagging. It was alleged that the actor was recently beaten to a pulp by military men and had to be flown abroad for emergency surgery.
Stella Dimoko-korkus contacted Jim on wednesday march 21,2012 and asked him one question but he offered more.
"Ah ah Jim are you in Nigeria?
Please can you confirm that you were recently beaten to a pulp and flown abroad for emergency surgery"
Jim laughs and then goes about his business of setting tstraighthe records .
"I was not beaten by anyone,I have heard that and its a big laugh.we were shooting a movie in calypso nite club in Limbe in cameroun when word got out and that I was there and before we knew what was happening over one thousand fans had gathered in the place and all wanted to get close to me,I was given only two bodyguards but they couldn't control the pushing crowd,it was really bad and as I was trying to leave through another section of the club,I was running,slipped and fell with my hand on a glass table which cut me badly.
I lost a lot of blood on the way to the hospital and almost passed out. The doctor who gave me stiches even voiced aloud that I had lost so much blood and he didn't know how I managed to stay conscious.after that I returned to Nigeria to get proper treatment. The stiches were taken off at cedar hospital in abuja and I am okay now. If I was beaten by soldiers like is Being wrongly speculated,how come they only beat up my fingers and not my face or body?its a big joke!"
He goes on further to address other issues
"As for the N15M I am supposed to have taken off a lady,nothing like that happened infact it escalated because I stubbornly refused to iron things out but the lady in question is my sisters best friend and we have sat down like a family and settled the issue out of court.we remain friends and family.

As for the cars I drive not belonging to me,that's a big laugh and I am still waiting for whoever says its their car to come and pick them up from my garage"
The reason I have been quiet is because I have been through hell and back. my mum was seriously sick and I was spending everynite sleeping with her in the hospital and also used that time on my knees begging God to spare my mothers life. My mums bedside was primary concern for me at that time so it was baseless responding"
I asked the actor to forward his recent pixs so I could see if his injuries were more than he told and He sent me pics of his injuries and the pictures he snapped a fortnight after the injuries.
I called cameroun on thursday march 22,2012 to speak with Mr agbor gilbert ebot who is the producer of the movie jim went to shoot in cameroun and was supposedly there when it all happened. .
Mr ebot confirned that the actor fell. On a glass table and cut his hand whilst trying to escape from his fans and that he (mr ebot) was to
blame because he didn't provide enough security for the actor.
So that's it,those spreading these tales should put a sock on it or provide pictures like jim has done.