'I WANT TO GET MARRIED AGAIN' – KSB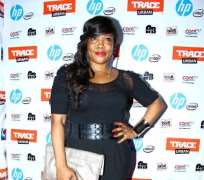 From heartbroken 'Brown' to 'divinely inspired Best', this award winning gospel singer, natural born chef and mother of three has been around the music industry for more than a decade, a feat she ascribes to divine calling and innate passion.
She has long been in the forefront of the urban gospel feel that has now found its way into mainstream, partnering with the likes of eccentric but hugely talented singer Terry G and the late rave making rapper Dagrin in bringing her message across to a larger audience.
In this revealing interview, the re-branded KSB, talks about her music, life, her novel approach to food business and, yes, romance. Enjoy!
Why the name change from 'Brown' to 'Best'?
I've been separated from my ex for close to six years now, and I've never really filed for a divorce before that, but now I want to do that and the divorce proceedings are already on. I never thought I would have to drop the name 'Brown'. But after Whitney died, you know there is a kinda similarity with her too, I just didn't want to identify with that at all, if something is 'ex', it's expired.
Did you feel you were in a similar situation with Whitney Houston and why?
I was in the situation she was, the only difference is that I didn't do drugs myself. But the issue is he is the 'ex' now, the marriage has not even been in existence for about six years now. So if I want to start anew, then I have to drop the name, let it go. It's a bold step. It's not been an easy task switching to 'Best', I've been used to Kenny Saint Brown like for ever, but it would appear I'm still hanging on to the marriage, so let it go. Secondly, I wouldn't call it a re-branding strictly, you know, coming from Kenny Saint Ogungbe, and then it became Kenny Saint Brown. I abbreviated to KSB about three years ago because of all the drama and blackmail that followed the whole 'thing'. I just wanted to be a brand new person but still retain the popular KSB brand. I prayed about it and 'Best' was what it was.
With your credentials and academic background, why choose music?
I believe I was just called to do this, and my job is to inspire people. Also, my foundation was letting people know that this is a divine duty. Along the line, I've come to realize that my main calling is basically to help people out of their struggles, through songs, talks, through inspirational words because I also go through pain, frustration, hatred, blackmail and all the things that others also go through. That is why you can identify with what I'm saying in 'Turn Around' or 'Live your Life', my new song which features eLDee.
How would you describe your music?
It started out like traditional gospel, and I would have maintained that if God wanted it that way, but He put me in a different phase, with different experiences. I mean, I'm not going to do it like Sammie Okposo, or Kefee, because their experiences are theirs alone, so it is my experiences that have kept me. So I said I was doing alternative gospel, and the title alternative gospel singer kinda stuck along the way. But it gives me an edge because I can work with secular artistes, like Terry G and the like, which helps to push the message across better.
How did your new venture in the food industry come about?
I have a passion for cooking. I'm in love with cooking, especially for people. I get bored with the same old jollof rice, fried rice and the rest. Now, my menus are named after celebrities because the Nigerian entertainment industry has really gone far in promoting our culture around the world, through movies and music. So the idea is to get people to fall in love with our culture, leveraging on the popularity of these celebrities. It shouldn't be about Chinese food all the time. So I thought, how about taking the name of these icons to brand the food, such that there's an endearment to it. There's a Genevieve, a Don Jazzy, Goldie, Omosexy, 2face, someone called me last time for a Minjin (laughs). There's a clamour now for a Banky W which I haven't quite worked out yet, but it's in the works (more laughter).
What should i expect when i order a Don Jazzy?
A Don Jazzy is a sauce with spicy pepper, onions, garlic, oriental herbs and others but with a lot of assorted meat. It's kinda close to an 'ofada' sauce.
Did you have to blend the personalities of these people into these menus?
Yes, that's what I did
So, I'm just curious, what's a Genevieve like for example?
A Genevieve is a brown smoked chicken, chopped and spiced up with colourful pepper; green, yellow, red, pepper which can be eaten with rice, yam etc.
So it's like playing with people's fantasies?
Yes, so when you're eating this you're like, 'I'm having a Genevieve' (general laughter). Then you have a Funke Akindele, you know she's a very proudly Yoruba actor so she best promotes a food like 'gbegiri', but with a little innovation on my part in the creation of the food, making it more appealing and appetizing. For now, we do deliveries based on orders, we're still building, but with time, we'll expand the KSB foodies brand so it can get across to a lot of people everywhere. We are also taking it to a global audience, with a TV program in the works.
What's on the cards for you romantically?
You can tell from my disposition that I am a romantic person and when I find someone to love I drift and soar.
Would you take another shot at marriage?
If it's good, if it's the type that would nurture me, help me to develop, and bring out the best in me, yes of course. But more importantly, marriage is a good thing when you're both friends. Friendship is very important and it is what I didn't have in my marriage. I would do anything for friendship, genuine friendship.
What would you like to be remembered for?
I want them, especially the youths of today, to remember me as someone who gave them wings to fly.