NFC PHOTO OF THE DAY:ASIWAJU BOLA TINUBU AND WIFE,REMI IN PUBLIC DISPLAY OF THEIR LOVE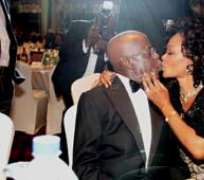 Asiwaju Bola Ahmed Tinubu,the former governor of Lagos State and wife, Remi openly exchanged a deep kiss in front of the attendees at his 60th Birthday at the Eko Hotel Suites.
They didn't care as journalists captured the moment with camera.
Na real Love Nwantintin be dis oh.
Lol
The picture taken at the event is shown here.