POPULAR FEMALE DRUMMER,ARA & HUBBY ANNUL 3 YEAR OLD MARRIAGE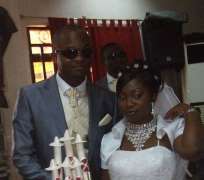 Popular female drummer,Aralola is single again.
Last week,Ara and her husband,Prince Nurudeen Olalekan Saliu,the son of Oba Oloruntoyin Saliu(the Oloworo of Oworo) ended their 3-year old marriage by Annulment.
Both went to a Lagos Local Government Registry to annual the marriage.
When they first parted ways last July they issued a statement by BlackHouse Media,on behalf of the musician, We've been separated since January the musician said then. But because I do not want rumours to start flying,and I think,out of respect,all my friends and fans need to know what's happening to me,I think it's right to set the records straight once and for all on this.
We're no longer together and we're both happy.We've both moved on.I'm single again.But I will not be searching for now.I've taken this decision very painfully;and it's particularly a tough and sensitive time for me and my son.
And I plead with my friends and fans to put us in their prayers at this period.
Ara got married to Nurudeen,a Lagos Prince on June 4,2009 at the Oshodi/Isolo Registry in Lagos.
When she was asked about the break up last November 2011,she was not forthcoming.All she said then was; My marriage crashed in January not because I was a bad mother or wife but I was married to the wrong person was how she put it. We had different beliefs.
I now tell women not to believe that the man will change after marriage.If a man doesn't change before marriage he will never change.Don't believe that marriage will solve the problem or that marriage changes people.It doesn't change people.Well,I don't want to say much,especially since my ex-husband has political ambition.
Speaking on it could destroy his political ambition.
On if she loves her ex hubby she replied Well,it's not love but respect.
I don't love him anymore.I did love him with all my heart.I respect him because of my son.I believe that no matter what happens he's still the father of my son.
There were good moments with him.My son's future must be protected.I will never tarnish his image,but for ladies,mother to learn and to avoid the mistake I made,I will definitely speak up later
Is she going to get married again;she said I will get married again because I'm a very romantic person.I believe so much in love.
Last week,both Ara and her husband annulled their marriage.
They were both made to write why they wanted an annulment and signed.
They both returned the original marriage certificates and they both left.
We hear her husband has moved on and he has even fathered a baby boy by another woman who he is not married to.
At the Registry,they were told the marriage never existed.
I never cheated on my husband.I have never had sex with any man since I left him.
I have asked God to kill my sexual desires until the right man comes and he must wait until we are married before we can have sex
click the link below to go to...