YORUBA MOVIE STAR LANKO OPENS UP ON MARRIAGE BREAK-UP TALES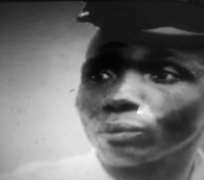 At last,comic actor Adeola Soremi a.k.a Lanko Omooba has broken his silence on the rift between him and his wife of many years,Iya No Network.
In a recent interview,he opened up on how it all began,and the allegations against him.
Iya No Network is still my wife.I cannot forget her.Don't I have children through her?
She is my wife.When she had our last born, I saw a complete turnaround in my life.So, I can't just leave her like that.
That girl we had was a real blessing to me.I have a second wife now.
There is no woman that wouldn't react if her husband should go for a second wife.That is exactly what is happening.But we have settled issues between us,everything is now okay.
I didn't abandon her and the children.I was shot twice in Ikorodu where we were staying.That was why I relocated.
I don't know the people who are after me,they still threatened to come back.I was shot at Green Gate Hotel,Ikorodu.People advised me to leave that vicinity for a while so that was why I relocated to Abeokuta.
I didn't run away from home.I didn't abandon my responsibilities.I didn't tell Iya No Network at first the reason for leaving home,but she is now aware.
I stayed in a hotel for over four months because of that incident.I have told you that there is no problem between us .
When asked,we learnt your new wife,Funmi is a married woman,that she left her husband in Abuja.She has also abandoned her kids as well;he said Don't mind them.Anybody can say anything.She was once married and she has left her husband.Shouldn't she remarry?
What they are saying is not true.
The journey didn't start today.A journey of five,six years is there an offence in it if I marry her?
Funmi is my wife.I can marry up to four wives.It is my problem.
People should stop spoiling my name.
click the link below to go to...
NO NETWORK'S MARRIAGE WITH YORUBA STAR ACTOR,LANKO OMOOBA DUBAI IN TROUBLE.