I Will Go Nude If The Money Is Good - Ecow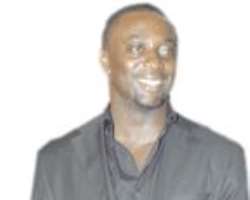 While others have said baring it all on the screen is a no no for them no matter how big the pay cheque, Ghanaian actor, Ecow Smith-Asante, 35, has revealed he will consider taking a nude walk in a movie if the money is good.
Although he didn't say how much is 'good money' the good looking actor said he wouldn't mind showing more skin if the need arises and the remuneration will get him wearing the biggest smile all the way to the bank.
In a chat with Graphic Showbiz, Ecow said "I will go nude if the money is good and the storyline is interesting. It also depends on the degree of nudity. It will be an interesting experience that I'll love to do", he said.
According to Ecow, a good actor is one who is able to interpret a role and if going nude is what will bring life to a movie, he sees nothing wrong with going sans clothes.
But of course, the reward must be very good to compensate for revealing it all.
Ecow who has been acting for a while now, refuses to see himself as a star. "What is stardom about me? Being seen on the screen playing flamboyant roles is far different from what is on the ground. I don't consider myself a star because that title goes with material possessions I don't even own a car. Surprised huh?", he questioned.
He said but for the passion he has for the profession, he would have stopped acting a long time ago. "I sometimes have to resort to tro tro when I am broke and people stare at me with the 'you're not supposed to be here' kind of look. I feel down when that happens", he said.
Talking about how it all started, Ecow a native of Mampong, Akropong said "After completing the Presbyterian Training College, Akropong, I was introduced to Freelance Players in 1994 by Wakefield Ackuaku of Nyankonton Drama.
I was also given small roles on TV shows such as Sun City and in movies until my big break in 2003 when I landed the lead role in Super Stars. The film also starred the late Suzzie Williams.
He said it was a learning process for him to work with female artistes like Kalsoume and Nigerian actress, Shan George. " I recall a scene in the movie where Shan George slapped me so hard that I lost balance. It brought out the reality of the scene, but unfortunately, the camera missed it. The scene was repeated but this time around I was more careful and it didn't turn out as realistic as the first one", he said.
Since then, Ecow has found himself collaborating with Nigerian artistes. He's featured in movies such as Brave Souls, Royal Battle among others.
Ecow's biggest dream is to star alongside American actor and Oscar winner, Denzel Washington who he refers to as his mentor. "Everyone has an idea, a vision and a mentor who they look up to and mine is Denzel. My dream is to star in a movie with him before I say adieu to the film industry" he said.
And just how is Ecow going to achieve that? He explained that prior to landing on the silver screens, he used to be on stage. "Who would have thought that my stage performances would thrust me unto the international scene where I can rub shoulders with stars like Genevieve Nnaji of Nollywood which is rated third in the world movie industry. With hard work and determination, that dream will come to pass", he said.
Ecow who says he is single however adds that he is not ready financially to settle down. "I don't have a girlfriend at the moment. I am however not ready to settle down since I am not financially sound yet. I do not want my wife to suffer", he said.
Ecow is the last of four children born to Squadron Leader (rtd) Alex Smith-Asante and Mrs Evelyn Smith-Asante. He had his early education at the Services Primary in Takoradi and Forces Primary in Kumasi before proceeding to Ghanatta Secondary School and later to Presbyterian Training College.
Story by Hilda Owusu