World Bank Confirms Kim, Okonjo-Iweala, Ocampo As Nominees For President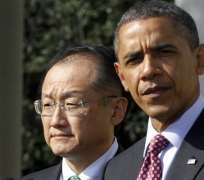 … Closes Nominations For President Of World Bank
SAN FRANCISCO, March 23, (THEWILL) – The Board of Executive Directors of The World Bank Friday evening confirmed three persons as nominees for the position of President of the Bank and formally closed the period for submitting nominees.
The bank in a statement emailed to THEWILL Friday said its "Board is pleased to announce that the following three nominees will be considered for the position:
"Jim Yong Kim, a US national and President of Dartmouth College, New Hampshire
"José Antonio Ocampo, a Colombian national and Professor at Columbia University, New York
"Ngozi Okonjo-Iweala, a Nigerian national and Coordinating Minister of the Economy and Minister of Finance, Nigeria."
It further added that interviews will be conducted amongst the three candidates to select a replacement by 'consensus' for outgoing President, Mr. Robert Zoellick, who is due to retire in a few weeks.
"In accordance with the procedures previously announced, the Executive Directors will conduct formal interviews of the three candidates in Washington, D.C., during the following weeks, with the expectation of selecting the new President by consensus by the 2012 Spring Meetings," the statement added.
US President Barack Obama Friday morning in Washington DC nominated Jim Yong Kim, the President of Dartmouth College as the US nominee for the position.
Also on Friday, Angola, South Africa and Nigeria jointly presented Ngozi Okonjo-Iweala as Africa's candidate for President of the bank.