Hon. Amma Bame Busia • The strong Girl Still Strong After 70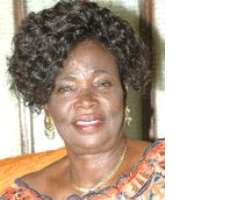 Her father nearly deprived her of the opportunity to go to school for all the wrong reasons. At that time he believed that since his daughter was a royal, if she attended school it would prevent her from having children.
She was, however, saved by her late brother, Dr Kofi Abrefa Busia, the late Prime Minister of Ghana, who performed the necessary rites to enable their father to allow her to start school.
In school, she found herself to be the only girl in a class full of hostile boys.
But her ability to overcome the hostility and the pain of losing her parents while she was very young toughened her.
 In fact, she believes these worked together to mould her to become who she is today.
The 70 plus tough, courageous and intelligent Honourable Amma Bame Busia is such an outspoken person on issues about politics that one could say that politics runs through their veins.
Perhaps most of you children don't know much about her but she is a former Third and later First National Vice-Chairperson of the New Patriotic Party (NPP).
As a politician, she has mounted various platforms and openly criticised the wrongdoiing of political opponents without fear.
She was arrested seven times during General Acheampong's regime and on the seventh time she was detained for three months.
Currently, she is a member of the Council of State.
The Junior Graphic visited Hon Amma Busia, who is the youngest sister of the late Dr Busia, the Prime Minister of the Second Republic.
Madam Busia, who is so fond of her brother, said of him, "My brother (Dr Busia) treated me as his first daughter and I also saw him as my father. I learnt a lot from him — he was God-fearing, so intelligent and soft spoken."
"Interestingly, I do not speak softly," she added, smiling.
Although Dr Busia was not around while she was growing up at Wenchi, she used to spend her holidays with him when he returned from his studies abroad and was teaching at Achimota School.
Madam Busia, who lost her father when she was only six, and her mother at the age of 13, said she grew up in a polygamous home.
Being the last child of her mother's 13 children did not mean she received special favours.
"I started going to the farm when I was eight and I carried back home firewood. I sold salt and pig feet at Wenchi to support the family income," she recalled.
Madam Busia explained that sometimes when they returned from the farm she was not allowed even to take her bath.
"I just changed from my farm clothes and off I went to sell," she said.
Amma's house chores also included sweeping the compound each morning and also fetching water from the riverside whenever there was no water at home.
Asked whether she had time to study at home, with all those chores to perform, she answered, "There wasn't any table to sit by to study so we lay on our tummies to do our homework."
Madam Busia said although her father did not approve of her attending school, her mother did.
 It was her mother who, though illiterate, used the proceeds from her okro and cassava farm to finance the education of her eight surviving children. Of course, Dr Busia, who was the first child, also helped with the education of his siblings by sending them money, "even while he was studying in Oxford".
In school, Young Amma was an average student who, despite being a royal, got whipped when she broke school rules such as reporting late to school.
 Her father, however, did not approve of that because he believed a royal should not be flogged, especially in public.
At home, however, when she was caned by her mother, her father did not say anything about her being a royal.
Young Amma's mother died, when she was only 13 so her auntie, took care of her and pampered her even more than her mother did.
She started basic education at the Wenchi Methodist School up to Class Three and continued at the Methodist Middle Girls' School in Kumasi.
She also attended the Komenda Training College where she trained as a teacher.
It was after Komenda College that while Dr Busia was going into exile in 1959 he took her along.
While in exile in London, she studied Institutional Management and Catering at the Regent Street Polytechnic because of her love for cooking.
She returned in January 1966 to work as a Domestic Bursar at the University of Ghana, Legon.
When her brother became Prime Minister, she was seconded to the Castle to take care of his catering. After her brother's overthrow, she went back to Legon, where she worked for 25 years.
When the ban on party politics was lifted in 1992, she opted to contest the Wenchi seat but her party, the NPP, boycotted the parliamentary election that year.
She has two grown-up children — Mr Obeng-Gyan Busia, a Consul-General in New York, and Kwasi Agyeman-Busia, the Head of a medical research centre at Atlanta, USA.
Story by Augustina Tawiah