Erectile dysfunction: 98% of men suffer it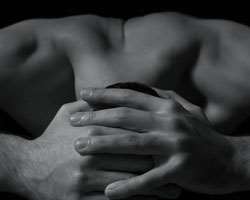 One health condition that has been experienced by at least 98 per cent of all men sometime in their lives but which they hardly talk about or seek medical help is erectile dysfunction and premature ejaculation.
For most men, it is very embarrassing and a source of great anxiety for their partners.

It is to address this problem which hinders the joy most couples should experience in their homes, that Unichem Ghana limited organised a day's seminar for about 300 health professionals and the general public.
Dr George K. Owusu, a medical consultant, who was the main speaker, said "in today's busy world it is often difficult for man, no matter how hard he tries to be at peak performance all the time."
According to Dr Owusu, it is a well known fact, that, men have the tendency to achieve orgasm much quicker than women.
He said this can lead to a feeling of frustration, disappointment and conflicts in relationships as it leaves many women dissatisfied.
Dr Owusu said erectile dysfunction could be due to relationship problems, stress at work, depression and performance anxiety.
It could also be due to a problem one has within one's system attributed mainly to hypertension, diabetes, cancers and to some extent cigarette smoking and alcohol abuse.
He advised men with erectile dysfunction to seek medical advise and treatment, since it could be the first warning sign of a major cardiovascular disease, diabetes or hypentension.
Dr Owusu said, "with a lot of counterfeit medicines now on the market as has been reported by the media, one has to be careful what one goes in for."
He said there are a good number of drugs which could be used in treating erectile dysfunction and premature ejaculation. He used the occasion to introduce two drugs, namely Procomil and Vikonon tablets which are best used for treating erectile dysfunction to the participants.
He said the two drugs contain yohimbine which is their active ingredient. ''This class of compounds enhances normal arousal without causing embarrassing involuntary erections.
As natural tonic for all men above 18 years, procomil and Vikonon are able to address both fatigue and erectile dysfunction in males.
The drugs work naturally over a period of time and have proven safety record," he said
Dr Owusu said "Procomil and Vikonon have the special advantage of being taken with other medications by men suffering from other health problems.
He also introduced to the participants Procomil spray and Protomil cream for men, which according to him, were easy to use and have also been specially developed to delay ejaculation in men and as a result makes both partners lead to a satisfactory relationship of both partners.
"These treatments I have introduced are safe solutions for premature ejaculation and erectile dysfunction and feel a natural boost in their sexual love life, leading to feeling of well-being and healthy relationship," he added.
Source: The Spectator