South Korea Says North Wants Rocket For Nuclear Weapon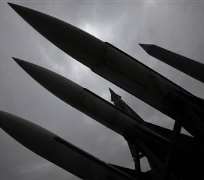 South Korea on Monday condemned rival North Korea's planned rocket launch as a "grave provocation", saying it was a disguised attempt to develop a long-range ballistic missile capable of delivering nuclear weapons.
Seoul also extended a security alert in the capital, and said it was concerned the North might follow the ballistic missile launch with another nuclear test.
The North announced on Friday it would put a satellite into orbit next month barely two weeks after reaching an agreement with Washington to suspend long-range missile launches as part of a deal to restart food aid.
"Our government defines North Korea's so-called working satellite launch plan as a grave provocation to develop a long-distance delivery means for nuclear weapons by using ballistic missile technology," presidential spokesman Park Jung-ha said in a statement.
Washington says the North's long-range ballistic missile program is progressing quickly, and last year said the American mainland could come under threat within five years.
The secretive North has twice tested a nuclear device, but experts doubt whether it yet has the ability to miniaturize an atomic bomb to place atop a warhead.
Pyongyang is believed to have enough fissile material to make up to a dozen nuclear bombs, and in 2010 unveiled a uranium enrichment facility to go with its plutonium program which opened a second route to making an atomic weapon.
On Monday, President Lee Myung-bak met the foreign and security-related ministers to discuss the North's surprise announcement, which also flies in the face of a U.N. Security Council resolution banning long-range missile launches.
Park said in a statement that Seoul would work closely with the United States, Japan, China and Russia - all members of the six-party forum which deals with the North's nuclear program - during next week's Nuclear Security Summit in Seoul.
North Korea's weapons of mass destruction program is not on the agenda for the summit, but will be one of the major talking points on the sidelines of the meeting involving some 50 world leaders including Barack Obama and Hu Jintao.
SEOUL DEFENCE ALERT
The South's defense ministry said it had established a team to monitor the rocket launch and would maintain a heightened defense alert for the Security Summit in Seoul through to the rocket launch, scheduled for between April 12 and 16.
Ministry spokesman Yoon Won-shik told reporters that Seoul and Washington would use "surveillance assets" to watch the missile base in Tongchang-ri and follow the flight path after it is launched.
The North says the flight will not impact neighbors.
Yoon said authorities were also on alert in case the North follows up the rocket launch with a nuclear test, as it did in 2009.
Ties between the two Koreas, which are still technically at war, having only signed an armistice to end the 1950-53 Korean War, have hit their lowest level for decades since conservative Lee Myung-bak won the presidency in 2008.
Political analysts say the launch is aimed at boosting the legitimacy of the North's young new ruler, Kim Jong-un, who inherited power after his father's death in December.
The North on Sunday defended the launch, saying, "The peaceful development and use of space is a universally recognized legitimate right of a sovereign state."
Pyongyang says it is using the rocket to launch a satellite to mark the 100th anniversary of the birth of Kim Il-sung, the country's founding ruler and grandfather of the current ruler.
INTERNATIONAL CONCERN
The launch threatens to derail a food aid deal the North struck with Washington last month. Then, Pyongyang agreed to suspend nuclear tests, missile launches and uranium enrichment and to allow nuclear inspectors into the country.
More troubling, perhaps, for Pyongyang, which is long accustomed to trading invective with Washington, China has called the planned launch a "worry" in a rare attempt to put public pressure on its impoverished ally.
Japan would do its best to prevent any damage from a launch, the country's defense minister said.
"Depending on the situation, we would consider deploying PAC3 missile interceptors and Aegis ships," Naoki Tanaka told lawmakers in the upper house of parliament, according to broadcaster NHK.
"Considering what happened in 2009, we are prepared to do our utmost to prevent any damage to Okinawa and the rest of the country," he said, in reply to a query from an Okinawa lawmaker.
In April 2009, North Korea conducted a ballistic rocket launch that resulted in a new round of U.N. sanctions, squeezing the secretive state's already troubled economy and deepening its isolation.
That launch was dismissed as a failure after the first stage fell into the Sea of Japan without placing a satellite in orbit. Another test failed in similar circumstances in 1998.
REUTERS