ACTRESS MATILDA OBASEKI ENGAGED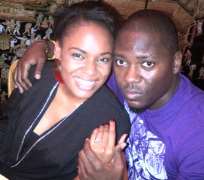 Leggy and pretty Matilda Obaseki is one of the newly discovered actresses currently serenading on MNET's intrigues-filled soap, Tinsel. At 26, the Edo State-born emerging screen diva is so optimistic that acting will definitely take her to the next level, in the next couple of years.
The latest gist about the sexy actress is that her dream to quit spinsterhood may soon come to reality.
We learnt she has warmed herself into a relationship that is said to be altar bound.
Close sources squealed to us that the charming thespian met the new Romeo months back and since then, the romance has been waxing stronger and stronger.
We gathered that the handsome dude whose name is still under wraps proposed to Matilda last week.
She has been wearing a beautiful smile since the proposal was made and from the information we gathered, they will be walking down the aisle before the end of the year.
Congrats !