The Making Of A Model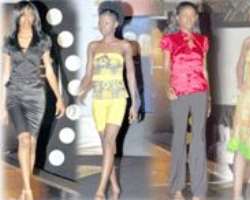 Herman Ofori-Macmillan, CEO of Phase One Modelling and Events will go anywhere to scout for models -night clubs, universities, the streets, anywhere, as long as he gets what he is looking for.
Of course there are those who also look for the opportunity to model so when they meet him, it's a God-sent.
 Other potential models are contestants from beauty pageants who take up modelling after the pageants.
When he gets the girls, he grooms them and puts them on the runway, in music videos, television commercials, billboards and magazines.
"Basically what we do is to scout for talents and develop them to give them the exposure," he told Showbiz in an interview last Tuesday.
An ideal female model, according to Herman, should have a minimum height of 5"8 or 5"9 and be a UK size eight or 10.
He added that these days, people are considering sizes 10 and 12 because of complaints that some of the models are too skinny.
He said that a model does not necessarily have to be pretty as long as she has the striking features.
"We in the business are able to see certain features that the lay man may not see," he said.
So what are the basic things the models are taken through? "Call it the basic runway lessons, we teach them how to carry themselves, poise, posture and facial expressions."
Herman said that the duration for grooming does not usually exceed 90 days but it depends on the individual, "some are naturals and do it in a month so right away they are put on the catwalk while others stay for six months to a year and still don't get it," he said.
Working mainly with all these girls certainly takes its toll and Herman mentioned some of the challenges.
"As young women, they have their turn-offs especially when they are in their menses.
Some of them can't deliver at all during those periods, lack of discipline is also a problem while others have attitudinal problems."
Another problem has to do with clients who do not place value on these models.
"Some of them often do not want to pay the models what is due them and there are times I can't help but compromise and then I am accused by the girls of exploiting them and not having their welfare at heart because they think I do not negotiate well on their behalf."
Herman was proud to say that Phase One has produced some of the best models and the best model trainers in agencies all over the country.
 "We discovered and trained the likes of Sheila Mensah, Mirash Davies, Cindy Mensah, Patrick Alomatu, Bennet Adjei who now runs Exotic Modelling Agency among others.
He believes that a model from Ghana who has all the required features can make it anywhere in the world, "the only difference is that models out there are better paid and there is an industry out there for them."
By Jayne Buckman-Owoo