PDP CONVENTION: GOVS, JONATHAN REACH ACCORD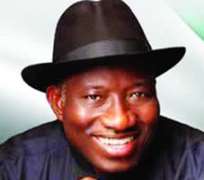 Jonathan
A major breakthrough in the logjam on the election of principal officers of the ruling Peoples Democratic Party (PDP) was made at the weekend with governors conceding to the president the prerogative to present nominees.
The governors had engaged the president in a stand off on who would produce the principal officers banking on its enormous constitutional powers over delegates to the convention.
President Goodluck Jonathan, who was in his home state of Bayelsa for the party's state congress, on Saturday met with the Chairman of the Governors Forum (GF), Rotimi Amaechi of Rivers State and resolved that all principal officers of the new PDP exco will be nominees of the president to promote 'unity, cohesion in the party.'
The meeting, which held in Otuoke, the president's village, it was learnt, was at the instance of the president and was a reaffirmation of the agreement between the president and the GF to back all candidates for principal officers that the president presents to them.
Alhaji Bamanga Tukur's chairmanship aspiration and ex-Osun State governor, Olagunsoye Oyinola's quest for the seat of national secretary were believed to have the imprimatur of the Presidency.
Before last Saturday's meeting, the governors had shifted ground a little, asking the president to either produce the chairman and allow them to present candidates for national deputy chairman, national secretary and national organisation secretary or vice-versa.
In a manner reminiscent of arm-twisting, the president was said to have traded-off the proposed expansion of the NEC of the party with members of the National Assembly to accommodate the governors' interest.
All that came crashing as 'the meeting between the president and the governors was very cordial and both of them came out smiling.'
This is the first time since 1999 that the presidency and the governors will reach an amicable mutual agreement on principal officers of the party ahead of the convention.
Under the Olusegun Obasanjo regime the presidency almost always railroaded its choice down the throats of governors. The late Musa Yar'Adua was indifferent and gave governors freehand to present the principal officers.