Daboh Dies; Jonathan, Mark Offer Commiserations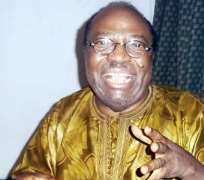 BENUE, MARCH 15, (THEWILL) - The Benue State chapter of the Peoples Democratic Party was on Thursday in a mournful mood following the death of strongman of the state's politics, Chief Godwin Daboh Adzuana, which occurred at the Garki Hospital, Abuja.
Godwin Daboh shot into political limelight in 1957 when he became a member of the United Middle Belt Congress (UMBC) and later a chieftain of the National Party of Nigeria (NPN). In his later years, he developed a reputation for involvement in controversies.
His passing on immediately drew condolences from Senate President David mark, an indigene of Benue, and President Goodluck Jonathan, who have both described him in glowing terms.
President Jonathan eulogised Daboh as a very active man who was not afraid to stand firmly for the principles in which he believed. He commended Daboh's "vigorous campaign and adroitness in mobilising grassroots support during the last presidential electioneering process," and his "positive contributions, as founder of the Move Nigeria Project, in promoting national unity and consciousness."
Similarly, Senate President, David Mark, described him as a political strategist and goal-getter, whose political sagacity would be missed because he was always there when it mattered politically.
"We shall miss his political engineering, his wit and humour even in the face of adversity," Mark said in a condolence message signed by his media aide, Paul Mumeh. "He was daring, fearless and courageous. He never shifted ground once he believed in a course. No matter how much you loved or hated him, Daboh was a politician of note who could not be ignored."