SUPER EAGLES STRIKER,OBAFEMI MARTINS SPLASHES N5 MILLION ON HIS LATE BROTHER'S SECRET LOVER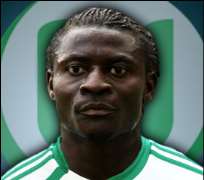 Months after the death of Oladipupo Rotimi Martins,elder brother of footballer Obafemi Akinwunmi Martins,his secret lover has emerged with his baby.
According to source,the said lady identified as Maryam,who equally has a street name,Alhaja,has been late Ladi Martins lover for years.
She is said to be residing on Adeniyi Jones,Ikeja,Lagos.
Our source further said that she( Maryam) was heavily pregnant at the time Ladi,a former football player died in July 2011,and that it was when the sad incident happened that her pregnancy became known to Ladi's family.
Maryam,according to our findings,has since been delivered of a baby boy and both are now residing in Maryam mother's place in Lagos Island.
The Martins family,according to family source,have no choice but to accept the baby for two reasons.
The affair between their late son and Maryam is known to them and again the baby boy is a carbon copy of the late Ladi which was why the baby was named after the late footballer.
Sources also divulged that estranged Super Eagles striker,Obafemi Akinwunmi Martins,younger brother of the late Ladi,who is aware of this development gave the mother of his brother's baby,Maryam,a sum of N5 million for the upkeep of the baby and other related expenses.
The late Oladipupo Rotimi Martin died on Tuesday,July 11,2011.He was said to have nursed a heart related ailment for sometime.
He was equally going for regular medical check-up abroad before the complications the day he died.
click the link below to go to...
SUPER EAGLES STRIKER,OBAFEMI MARTINS LOSES ELDER BROTHER.

LATE LADI