Come Into My Parlour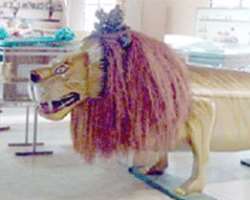 The hectic experience he had to endure to give his father a befitting burial some 14 years ago was one of the reasons that pushed Mr Joseph Lloyd Vivid Kwadjo, Managing Director of Ebenezer Funeral Parlour to start a business that deals with the dead.
This in addition to an encouragement from a friend who owned a similar business in South Africa informed his decision to go into the funeral home business. So, in 1995, he started putting structures in place for the now popular Ebenezer Funeral Parlour whose operations as the first funeral parlour in Ghana, began in 2002.
to Mr Kwadjo at the funeral home located on the Accra-Kasoa road, he said, "I was working in South Africa when my father passed on in 1994 and I had to come down for the funeral. And mine! It was no easy task. From ensuring that the body was well preserved, acquiring death certificates to hiring of canopies, chairs and what have you was very very hectic," Mr Kwadjo told Showbiz.
Back in South Africa, Mr Kwadjo said his friend took him to his funeral home and showed him around telling him how good the business was if only one had the courage to go into it.
So what goes on at Ebenezer Funeral Parlour? "Like the hospital mortuaries, we preserve dead bodies. It is a very sensitive job and we have our rules which are strictly adhered to. For example, we do not allow people to see other people's bodies. Over here, corpses are put in body bags before they are put into the refrigerators," he said.
Mr Kwadjo said they are very sensitive to the cultural needs of their customers for which reason they allow them to perform whatever rites they wish to — from libation to slaughtering of animals.
"We are very sensitive to customs and traditions. We employ both Western and Ghanaian cultures. Ghanaians dress the full body but in the Western world, they only dress the top part of the body", he said.
Although Ebenezer Funeral Parlour has an in-house pathologist, they do not undertake autopsy because as a private mortuary, it hasn't been given the right to do so.
"The pathologist therefore gives advice on whether or not an autopsy should be done. And when it is necessary to do it, we have it done in the government hospitals.
"We, however, do embalming using machines. We also have chemicals for preserving complexions. For instance, if the deceased was a fair person, we use the appropriate chemicals to ensure that the body does not change colour when laid in state", he added.
Not every corpse can find its way into the mortuary of Ebenezer Funeral Parlour. When bodies are brought in, they are carefully reviewed and accepted only when the funeral home authorities are convinced about the circumstances surrounding their death.
The Ebenezer Funeral Parlour has a workforce of 27 with three main departments — mortuary, administration and transport. "We are in business and whatever is attached to funerals, trust that we will deliver. We have caskets, shrouds, suits, pillows, mats, wreaths, hearses etc. We also have canopies for the grave and the device for lowering the coffin into the grave", he said.
The Parlour charges GH¢4.50 a day for the first 14 days for preserving bodies. The amount increases to GH¢7.00 from 15 to 28 days while 29 days onwards attract a daily fee of GH¢8.00.
Touching on how much it will cost to engage the services of the funeral home, Mr Kwadjo said it depends on the requests and taste of the customer.
"For example preserving a body for a month will cost about GHC 160 and an extra GHC40 for embalming and handling. The price of a casket ranges from GHC400 and GHC2300. A shroud for a man (new suit) cost GHC600. Otherwise a second-hand suit which costs GHC60 will do. The undertaker who is usually the lady who washes, dresses the corpse as well as decorate the place the body will be laid charges GHC450.
If a customer wants elaborate decor, he/she incurs an extra cost of GHC400.
"Hiring a hearse from the home to places within Accra costs GHC450 for the Mercedes Benz and GHC420 for other vehicles. Using pallbearers cost GHC160. For food, drinks, hiring of chairs, canopies among others, we engage the services of appropriate service providers and charge the cost against our customers", he added.
Contrary to what pertains at Ebenezer Funeral Home, Madam Gladys Naa -Ashong Hesse, 80, an undertaker from Osu who has been washing and dressing corpses since she was a school girl doesn't charge for her services. She accepts whatever her customers deem fit to give her after the job has been done.
"I do not charge my clients because of a promise I made to God sometime ago. I told God I would do something for Him in return if He delivered me from a certain situation. So my free services is what I use to thank God for His deliverance", she said.
Asked if she knows of the going rate for undertakers, Madam Hesse answered in the negative. "I cannot tell what other people charge because they are often not willing to disclose and I do not press to know", she added.
According to Madam Hesse, clients call her usually based on recommendation from other people. Others sometimes just walk in and request for her services. "Sometimes I get so many calls that I pass on some of the jobs to others. I remember once, I had to handle eight bodies on one particular day", she said.
Touching on some of the challenges of an undertaker, Madam Hesse said "some of the problems are sometimes insults from the bereaved family. I often overlook that because bereaved persons express their emotions in a variety of ways and they get easily irritated.
Also there is the possibility of contracting diseases since I may not know what the person died of. Thus I wear gloves for all jobs and insist on no talking in the room during work", she added.
Madam Hesse, who is a teacher by profession learnt undertaking from her mother, a seamstress who used to do it for only family members.
"I also did it just for family members when I started on my own in 1970. The first corpse I handled by myself was an aunt of mine. I now do it for the general public", she said.
Story by Jayne Buckman-Owoo