REAL REASONS STELLA DAMASUS DROPPED FROM AGN RACE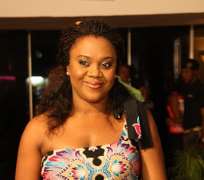 Recall that last week,we brought you a story that top actress,Stella Damasus,who had earlier declared her intention to run for the post of Public Relations Officer,(PRO),in the forth coming election of the Actors' Guild of Nigeria,(AGN), which will take place on Saturday, March 17, 2012,dropped from the race at the eleventh hour.
At the point when her fans and well wishers expected her to face the AGN's Electoral Commission,(AGNEC),for her final screening,Ms. Damasus was nowhere to be found.
Insider sources, revealed that the talented thespian and singer kept every member of AGNEC waiting for long and finally surfaced when the screening exercise had ended. What people didn't really know was the real reason she decided to stay away from the screening exercise which automatically disqualified her from participating in the election.
Sources disclosed to us that Stella Damasus discontinued her political ambitions as a result of the petition written against Ibinabo Fiberesima by Mr. Emeka Rollas Ejezie.
As gathered,the petition was written in a way that implicated Ms. Damasus and turned her against Ibinabo Fiberesima,who is her friend.
The beautiful actress was said to have called Ms. Fiberesima and washed her hands off such malicious petition and revealed that nothing will ever come between her and Ibinabo and that she can never use a mistake in the past against someone.
She was said to have displayed disbelief over Emeka Rollas attitude and promptly decamped from his group,thereby abandoning her own ambition.