TAHF HOLDS CONCERT FOR SICKLE CELL PATIENTS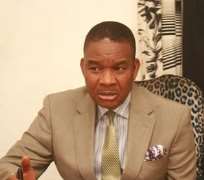 Dr. Awosika
The Temitayo Awosika Help Foundation (TAHF), a non-governmental organization created to cater for the needs of sickle cell disease patients recently showed love in what it tagged 'TAHF love aglow concert'.
The event, which held at the Rauch Light House, Obanikoro, Lagos was laden with fun filled activities like music, drama, comedy and dance to entertain future beneficiaries and club members of the organization as well as well wishers who had turned up to support the organization.
The Executive Director of the organization, Dr Olugbenga Awosika who is also the Medical Director of Med-in Specialist Hospital,Ogudu, Lagos, expressing satisfaction at the success of the concert said: 'It is good to see the smiling faces of children who despite their health challenges are happy and pray that the next time such event is organized, it will be better unlike the usual discussions on issues surrounding sickle cell disease'.
Awosika also added that with more than 500 patients who had benefited from the organization, TAHF is different from other non-governmental organizations because it is a passionate project that is borne from the heart
Temitayo Awosika Help Foundation was inaugurated on the 16th of October, 2000, in memory of Temitayo Awosika, a sickler and lover of mankind who departed the world on August 13, 1999 at the tender age of 19. It started operation on the 3rd of March, 2003. Since its inception, TAHF has silently implemented laudable projects that have affected lives especially the sickle cell disease patients and the helpless in the society in line with the aspiration of its founders. TAHF has offered medical services, targeted counseling and patient care, supply of drugs, patient sponsorship, payment of hospital bills, house rent,visitation to homes donation of clothing materials to the needy.
A beneficiary from the foundation, Olaseinde David, commended the effort of the foundation and said he joined the foundation shortly after he had a complication with his ankle (leg ulcer) and was introduced by the matron to the foundation and has enjoyed support from the foundation. He said he has mingled with other patients and we have been able to share our pain and gain.