Worsening Poverty Level Worries ACN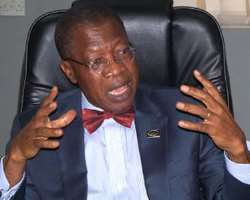 ACN NATIONAL PUBLICITY SECRETARY, ALHAJI LAI MOHAMMED
ILORIN, March 08, (THEWILL) - The Federal Government must immediately address the continually rising poverty level in the country to prevent a further slide into worse social crises than is currently being experienced.
The Action Congress of Nigeria (ACN) raised the alarm on Thursday in a statement issued in Ilorin by its National Publicity Secretary, Alhaji Lai Mohammed. The party accused the Peoples Democratic Party-led government of shutting its eyes to the paradox of waning poverty among Nigerians while beating its chest over a supposed economic growth in 2011.
ACN pointed to figures recently released by the National Bureau of Statistics, showing the rise in the percentage of Nigerians living in poverty
from 54.7 per cent in 2004 to 60.9 per cent in 2010 — a trend that translates to 112 million Nigerians living in poverty despite a 7.6 gross domestic product (GDP) growth in the country's economy.
"We have always warned that economic growth in itself is meaningless
if it does not translate to better life for millions of our citizens living in poverty. We hate to say it, but the revelation by the NBS has proven that this
is true," a part of the statement read. "We have also consistently alerted the nation to the cluelessness of the PDP government on how to ensure that economic policies positively influence the people by generating wealth and creating jobs. This, sadly, has also turned out to be prescient."
The party, in its calculation, argued that since PDP has ruled Nigeria from the return to democratic rule in 1999, the poverty figures would have been doubled if the scope of years under review had been lowered to 1999, saying "And instead of getting out of the hole into which it has dug itself,
the so-called biggest party in the whole world has continued to dig deeper, thereby pushing more and more Nigerians into poverty. When the effects of the recent ill-advised fuel subsidy removal are taken into consideration, the figure of Nigerians living in poverty must really be staggering; and this is a time bomb waiting to explode."
The party said it was particularly revealing that the two regions worst hit by activities of the Boko Haramsect — the North-west and the North-east — recorded the highest poverty rates during the period under review by the NBS.
"There is no better indication of the correlation between poverty and
social disorder than the revelation of the statistics. While nothing in the world justifies the continuous maiming and killing of innocent people by Boko Haram, we cannot run away from the fertile ground provided by the high poverty rates in the north," it further said.
Concluding ACN warned that the country may sooner than later become engulfed in a social crisis of unimaginable proportion unless the situation is reversed and jobless youths are gainfully employed.